For a wide receiver, DeSean Jackson had himself a pretty good season. For a rookie, he had a great one.
When the dynamic, agile star from Cal-Berkeley arrived in Philadelphia, he was expected to anchor a return game that lacked a consistent home-run threat in 2007. Jackson provided some highlights on punt returns, but, surprisingly, the bulk of his workload came as the team's No. 1 receiving threat.
Jackson entered training camp completely buried on the wide receiver depth chart. But he worked his way up. And though the Eagles lost last Sunday's NFC Championship Game, Jackson seems to have himself a bright future.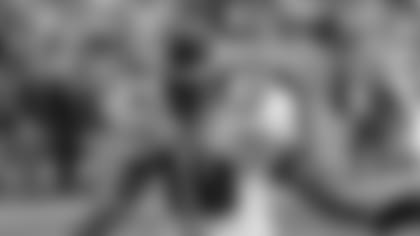 The sky is the limit for DeSean Jackson
"It's early in my career and it's been a great year for me, a lot of great experiences," Jackson said. "I was able to learn a lot, but definitely not the way we wanted to finish it."
Despite the loss, take a look at what Jackson accomplished this season. He played in all 16 games, and started 15. In his NFL debut, he racked up 203 all-purpose yards, a franchise record. He had more than 100 yards receiving in each of his first two games. During the regular season, he led the Eagles with 62 catches and 912 receiving yards, and his playmaking ability allowed head coach Andy Reid to develop a "Wildcat" single-wing formation specifically for Jackson.
During the playoffs, Jackson was second on the team with 207 receiving yards, and his 62-yard score late in the NFC Championship Game briefly put the Eagles ahead after a 19-point comeback.
And there's room to improve. Jackson struggled most this season with getting in the end zone – he scored on passes, runs and punt returns but tallied just four regular-season scores between them. And who can forget his rookie gaffe in Dallas, where an early celebration caused the ball to be placed on the 1-yard line, instead of across the plane for his first touchdown?
Still, the rookie mistakes and learning curve don't dilute his performance. Overall, he was second amongst NFL rookies in both catches and yards (Denver's Eddie Royal led in both categories). Since Randy Moss' explosive rookie season in 1998, only seven rookie receivers have put together more yards than Jackson.
And let's not forget that Jackson was the seventh receiver taken in the 2008 NFL Draft, 49th overall. For all intents and purposes, he was a steal – few would have winked an eye if he were taken in the first round. Again, of the receivers taken before him, only Royal outperformed him. In fact, among those six, Jackson outperformed Devin Thomas, Jordy Nelson, James Hardy and Jerome Simpson *combined *(58 catches, 575 yards).
But there is work to be done. Jackson must work to avoid a dreaded sophomore slump. Of the seven rookie receivers to best his production to best his production, three did not improve their numbers in their second season. Of these three (Kevin Johnson in 2000, Michael Clayton in 2005 and Anquan Boldin in 2003), only Boldin recovered to be a player of consequence.
It's up to Jackson to not fall off. He has the swagger of a leader, and confidence is certainly not an issue. Above all, he wants to win. No more disappointments like this past season.
"Inside this locker room, we believed," Jackson said. "It carried us a long way. Everyone in here is disappointed, but it's a special team."