A season of injuries in the past, the Eagles' offensive line took a huge step forward on Tuesday as the three-day camp kicked off. For the first time since, geez, the final game of the 2011 season, the Eagles had all of their projected pieces in place up for front the offense.
There was Jason Peters, the best left tackle in the game, moving freely and with explosion after missing the entire 2012 season with a torn Achilles tendon. There was left guard Evan Mathis, who has been nothing but outstanding since joining the team in 2011, recovered from offseason ankle surgery. At center was Jason Kelce, who seemed on the verge of establishing himself as one of the game's best at his position prior to right knee surgery in Week 2 of 2012, ending his season. Todd Herremans lined up at right guard, a move one slot to his left after playing right tackle prior to his season-ending foot and ankle injuries midway through the '12 season.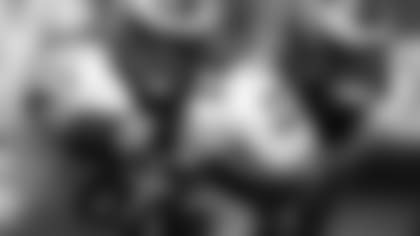 And there was, lining up at right tackle, first-round draft pick Lane Johnson, giving us a glimpse of what could be in the years to come for the Eagles.
We don't know how it's going to work out, and who is going to win what job, because there are other players in the mix -- Danny Watkins at guard, Dennis Kelly at either guard or tackle, to name two -- who are pushing for starting position, but it sure was great to look out on the field on Tuesday and see the injured players in the trenches with the rookie that has such high hopes for his NFL career.
"It was great having the starting five out there, talking to each other, getting the communication down and really just jelling together," said Peters.
Make no mistake, as we obsess over the quarterback position and daydream about what could be with all of these skill-position weapons in the offense designed by head coach Chip Kelly, offensive coordinator Pat Shurmur and the coaching staff, the offense is only going as far as the line of scrimmage will carry it. The Eagles have a chance to be very strong up front, and the only way they can get there is to have the players healthy and together for rep after rep after rep with line coach Jeff Stoutland.
So that's why it was great to see everyone present and accounted for on Tuesday. The Eagles labored up front after Peters tore his Achilles tendon, and then Kelce went down and then Herremans was sidelined.
Getting all of those players back, and then adding Johnson to the mix, is exciting.
"I think we have a good situation here," said Mathis. "We have to get used to each other and that's going to take some time, but we'll get there. That's why practices like this are important. We need to build on what we've done in the past and become more and more comfortable with each other. Everyone is pushing each other. It's fun to be part of."
In this up-tempo offense, the Eagles could run a lot of different formations than in the past, and they could show more of a no-huddle look, something that is fine with Kelce if it comes to that.
"I've played in the no huddle before," he said. "This is kind of similar to a system I ran in college. Whenever it's a no huddle, the defense has to line up. It's tougher for a defensive line to get into a rhythm than in a situation where they can jump the snap count because they're too worried about getting the play, where they're supposed to be. It does a good job when you're driving to put the defense on their heels.
"Offensive line, so much of it has to do not just with having good players, but good chemistry along with you and the rest of the four guys you're playing with. The more time you have to work with those guys, the more time you have to be out there working in the systems, generally speaking, the better the offensive line will work as a unit."
Mathis said he felt "great" on the field and that it was "great having the whole gang out there." That's a huge positive, no matter who wins the quarterback job or how many running plays Kelly calls or how much the offense spreads the defense out.
Stoutland's approach, said Mathis, is "aggressive, with a sense of urgency," and there is going to be some differences in what Stoutland wants from a technique standpoint. But having Mathis and Peters and Kelce and Herremans, and adding in Johnson, and getting them some important practice reps prior to training camp, that's huge, isn't it?
"I think it's a great step forward," said Kelce, "with a lot more to go. We'll ramp it up when it's time. Right now, seeing everyone out there working together was a good day for us."