As the Eagles rebuild the defense and ratchet up the intensity when training camp starts, one of the focal points will be Mychal Kendricks. A rookie a season ago who played strongside linebacker, Kendricks will move inside this year when the Eagles play a 3-4 front. He's excited about the new challenge.
"I'm one of those guys who enjoy pushing myself and seeing what I can accomplish, so to come off a first year when I did some good things and understood there are things I need to improve, I've really enjoyed the defense," said Kendricks. "It's fast and it's a lot different from what we ran last year. We have to make more plays and force more turnovers and get to the quarterback.
"I look at it like I want to be the one to make those plays. My goal is to take my game to a new level."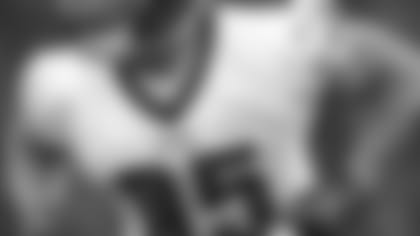 Kendricks played at a very fine level as a rookie after the Eagles made him a second-round draft pick from California. Kendricks became an immediate starter, and after hearing question after question about how a 6-foot linebacker would be able to cover all of the 6-7 tight ends roaming the NFL's earth, he went out and covered them very well, thank you.
Kendricks also registered 8 tackles for loss, the most for an Eagles rookie since the statistic started being kept in 1999. Kendricks played with fire and passion and showed that he could run well enough to play at a high level in the league, and that his mind could assimilate changes and adjustments on the fly.
It's a new year now, and a new task.
"It's a very good fit for me. There's so much going on when you're inside. You don't run down the field and away from the line of scrimmage, so I see it as an opportunity to make more plays at the line or in the backfield."
The scope of Kendricks' job responsibilities is yet to be completely defined, as we are in the early stages of the Bill Davis defense, but it's safe to say that Kendricks is going to have a chance to make a lot of plays. He could have a role as a blitzer -- Kendricks was a very fine pass rusher in college -- and he will be critical against the run and could also drop back in zone coverage against the passing game.
Kendrcks proved quickly in his rookie campaign that he belongs in the league and that he can play at a high level. What's next? Is Kendricks the kind of player who will keep rising as a Pro Bowl-caliber player?
"Whatever they want me to do, I'm going to do it. We've all learned the defense together and the communication is there," said Kendricks. "The next step is to take it to training camp and increase the tempo and keep playing together and communicating and working on the scheme.
"We have to be aggressive. We have to take it to the offense. Last year, it just was too many mistakes. We started out well together and then it fell apart."
The Eagles are counting a lot on the 2012 draft that includes No. 1 pick Fletcher Cox up front and Kendricks inside the defense. Both players needs to force the tempo, be disruptive and produce on a weekly basis when the regular season begins.
It's a large step up in responsibility and maturity for Kendricks, and that's just fine by him.
"I know I have to be in my playbook and I have to approach every day with a lot of focus and intensity," said Kendricks. "You learn that pretty fast in this league. If you don't bring it every day, you're not going to be here for long.
"I plan on being here a long time. I love it and I'm going to keep working at my craft and improving. This is kind of just the start."
It's a good start, at that. Kendricks is a young building block for a defense that has had an offseason overhaul. He has big-time talent and desire and the physical force to accomplish great things.
All of that signal calling in his sleep? That's one of the many signs Kendricks has that tells him just how deep he is into this defense, into this team and into the NFL, and he doesn't plan on slowing down any time soon.