Once projected as a top 5 draft pick, Geno Smith slid through and out of the first round on Thursday night and is now the top story for rounds two and three. He is the marquee player still on the board, along with Notre Dame linebacker Manti Te'o. Both could be around for quite a while in the second round.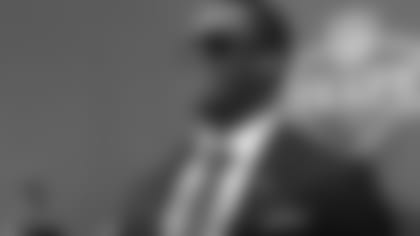 The feeling here is that the Eagles have other needs to fill, other cravings to satisfy, than to select Smith in the second round. Do they love him? If they do, by all means go get him with the 35th overall selection.
Otherwise, stay away. Why take a "flier" on a player at a premium position who you don't really love? The Eagles did their homework on Smith -- they worked him out privately and had him in to the NovaCare Complex for a visit -- so they have a working understanding of what he's all about.
Smith was prolific at West Virginia, but there seems to be something that is turning off the NFL personnel departments and coaches. Is his attitude right? Is he a leader? Were his stats inflated at West Virginia in a dink-and-dunk system?
Whatever it is, Smith was the Day 1 tragic fall from grace. He's still on the board as the draft starts on Friday, as is Te'o, and the Eagles could very well take one or both of them with their picks in rounds two and three.
The Eagles could also be in position to move back in the second round and accumulate some extra picks. They have options and they are going to think through every consideration.
So what will they do? As it always works, the team has small groupings of players it likes for each round, and within those groups the Eagles rank their preferences. If they stay in place at the top of each round, the Eagles will get their hands on some very fine football players, and the value is strong at positions like safety, defensive line, tight end and wide receiver.
A move back provides more ammunition for the Eagles to gain extra draft picks and add depth to the roster. There are a ton of very good players on the board. The Eagles have a great opportunity to bolster this roster.
But will they take Smith, the star from West Virginia? I guess I say I would be surprised if it happened. I think head coach Chip Kelly liked what he saw from both Michael Vick and Nick Foles, and it wouldn't shock me if the Eagles stay away from the position throughout the draft.
As for Te'o, he's a talented inside linebacker who had a marvelous career at Notre Dame, and if the Eagles move back in the second round maybe he's an option. I just don't see him at 35.
Where will the Eagles go, then? I will throw out the guess that the Eagles add either a defensive lineman or a safety with that pick, and then see what their options are in the third round. A trade down is absolutely an option. General manager Howie Roseman has been talking to teams throughout the weeks and has a list of scenarios to ponder.
The goal of Day 2 in the draft is to help this football team, no matter where. Defense? Sure. Pieces for the offense? I think a wide receiver, a tight end, and even a running back could be a possibility before too long.
The word is that the strength of this draft is in the middle rounds, so here we are. Expect a lot of trades in these two rounds. Expect the Eagles to be right in the thick of things.
But Smith? I say no, but that is no inside information. That's just a feeling that I have. Something is missing from the Geno Smith file, something substantial enough that the first round came and went and he's still available.