Believe it or not, the beginning of the 2014 season is rapidly approaching. Players will report back to the NovaCare Complex on April 21 for the start of the Eagles offseason program. Join us as we count down until the Eagles are back in town ... In the Eagles' 54-11 Sunday night trouncing of the Chicago Bears in Week 16 of the 2013 season, the offense was firing on all cylinders. They took advantage of Chicago's trouble with the ground game by running the ball often, but Nick Foles also had one of the most efficient games of his career. Foles completed 21 of his 25 passed, good for an 84 percent completion rate, which is the highest single-game completion percentage in Eagles history. The previous franchise record was 83.3 percent, set by Rodney Peete against the Detroit Lions in 1996.
Also of note, that is the only 54-11 final score in the history of the NFL, according to the Elias Sports Bureau. First Player To Wear 84: E Larry Cabrelli (1941-47)
Current Eagle To Wear 84: WR Will Murphy (2013-present)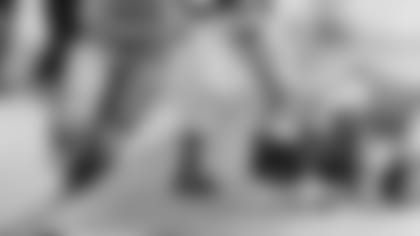 After one season in the World Football League, Krepfle joined the Eagles in 1975. He spent his first two seasons with the team playing mainly special teams, and he was named a special teams captain in 1976. In 1977, he became the starting tight end, and he had his best season in 1979, when he caught 41 passes for 760 yards and three touchdowns.
Known for his high-motor and praised by former head coach Dick Vermeil for his effort and intensity, Krepfle played seven seasons in Philadelphia through 1981. He played in Super Bowl XV, and was the only Eagle to catch a touchdown, hauling in an 8-yard touchdown pass from Ron Jaworski in the fourth quarter of the Eagles' 27-10 loss.
Krepfle went on to play one season with the Atlanta Falcons before retiring from the NFL after the 1982 season.
Other Notable 84s: TE Mark Bavaro (1993-94), WR Hank Baskett (2006-10)