Seeing your teammate go down on the field is not easy to watch and it happened twice on Sunday for the Eagles. Both injuries occurred in the first half as guard Brandon Brooks went down with a chest injury, and then defensive end Brandon Graham was carted off the field later with an ankle injury. With two key leaders going down, it was hard for the team to watch.
"It's always tough and it was a pretty emotional moment for me to see BG limp off the field because me and BG have played so much ball together. To see him walk off the field was pretty rough for me," said defensive tackle Fletcher Cox, who was emotional on the field when Graham was down. "We know BG, he's in a good spot right now and we'll talk once he figures out what's going on. At the same time, we got his back. We'll go from there and get ready for the next game."
Cox and Graham are two longtime Eagles who have been playing together for the past 10 years.
"Just hearing Fletch talk about it, that is obviously one of our captains. That is huge. That emotional leader," said linebacker Alex Singleton on how hard it was watching Graham in pain. "You guys all know him. He always has a smile on his face and is always doing the right things. He is always one of those guys that could always overlook somebody. I remember when I was still on the practice squad and he was the guy every day telling me I would play someday. He is that guy for this team and he'll still be that guy. That's the best part about him; that we might lose him on the field, but we won't lose him in the (locker) room and in the building."
Head Coach Nick Sirianni said after the game that the team is "concerned" about Graham's injury.
"We're fearful of what it might be, but we don't know for sure yet. But obviously we're concerned. He's such a good leader on this football team. If we are without him, it'll be a big blow. He's a great football player and a great leader. He's one of our captains," Sirianni said.
The two veterans have been with the Eagles for several years, and their shoes are big to fill.
"It's terrible. He's probably one of the greatest humans that I've had the pleasure of playing with and competing with for eight, going on nine years," tackle Lane Johnson said of Graham. "He's really the heartbeat of this team by the way that he conducts himself, the way he leads, and the way he plays. I'm not sure what the extent of the injury is, but I'm heartbroken for him."
The Eagles employ a deep rotation at defensive end, but more will be asked of veteran Ryan Kerrigan and young pass rushers Tarron Jackson and Milton Williams, regardless of the timetable for Graham's injury.
Graham is the longest-tenured Eagle, in his 12th year with the Eagles, while Brooks, a Pro Bowl guard, is in his sixth year.
"You can't replace those types of players. Younger guys have to step up, and we have to press on. It's terrible because Brooks is one of my best friends, he's been the best guard in the league for a long time, and he was doing well so far this season," said Johnson on Brooks' injury. "Not having him out there is a tremendous loss for us. Having him out there might have been the difference between us winning and losing."
Rookie second-round pick Landon Dickerson stepped in for Brooks in his NFL debut.
"Obviously it's a tough situation to be thrown into. He didn't get a whole Training Camp and everything, but I think Landon did a hell of a job," center Jason Kelce said. "They're a good defense and I know we've got a lot to improve on across the board." – Jillian Oddo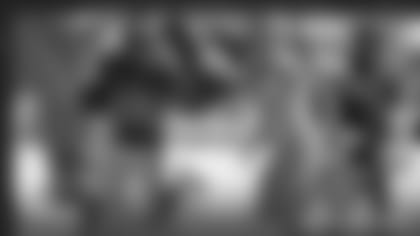 Microsoft Teams Top Connection
No surprise here as wide receiver Quez Watkins hauls in a deep pass from quarterback Jalen Hurts and takes off for a 91-yard completion. It tied for the fifth-longest reception in Eagles history.
Nick Sirianni defends aggressive playcalling
After the Eagles beat the Falcons in Week 1, Head Coach Nick Sirianni wanted his players to take 24 hours and move on. Following Sunday's loss to the 49ers, the message is the same.
"Round 3 is coming up and the bell is going to ring for Round 3, regardless of if we won or we lost. We have to put ourselves in position to win Round 3 by correcting this tape hard, by rehabbing hard and by meeting hard and walking through hard and by practicing hard to put ourselves in position to try to win next week in a division game.
"Obviously, there's disappointment. We didn't win the game. That's the only goal and don't care how you ever win it. You just want to win the game, so it was, 'Hey, learn from this, get up, pick yourself up, and get back to work for next week.'"
Sunday's 17-11 defeat, one in which the offense couldn't capitalize on some early opportunities to complement a strong effort from the defense, provides plenty of teaching points for not just the players, but a young coaching staff as well. Sirianni was critical of his playcalling after the Eagles had first-and-goal from the 49ers' 1-yard midway through the second quarter.
"I don't think I called good plays in that area. There are going to be times where you're going to look at it and be like, 'I want those calls back.' When they work, it was a good play. They didn't," Sirianni said. "So, it was my fault. I didn't call good enough plays right there. I didn't put the players in good enough positions, but we're all in this together, coaches and players."
Quarterback Jalen Hurts threw incomplete to tight end Zach Ertz on first down. A second-down run by Miles Sanders lost 3 yards before Hurts was pushed out of bounds at the 49ers' 3-yard line on third down. On fourth down, Sirianni aggressively went for the touchdown, calling a trick play that netted in wide receiver Greg Ward throwing an incompletion in the direction of Hurts.
Sirianni was honest with his self-assessment of the playcalling, but he defended the decision to go for the touchdown on fourth-and-goal.
"I think I should have called a better play and put our guys in better position to score. So, I take full responsibility on that," he said. "Again, if it works, then great, we're up 10-0. It didn't. In hindsight, I just wanted a different play call. I didn't call the right play in the right time." – Chris McPherson
Jalen Hurts: 'Those wounds are self-inflicting'
The hurt from a loss never gets any easier, especially when most of the wounds are self-inflicted. Quarterback Jalen Hurts says there were missed opportunities on the field, but the team can only go up from here.
"We had a lot of opportunities out there that we didn't capitalize on. That's pretty simple. We have to be consistent in our execution. I have to be consistent in my execution and my operations," Hurts said after the Eagles' 17-11 loss in the home opener to the San Francisco 49ers.
After an amazing season opener in Atlanta, Hurts and the offense could feel the difference against San Francisco's defense. 49ers standouts like defensive end Nick Bosa, linebacker Fred Warner, and defensive back Jimmie Ward put the pressure on the Eagles' offense. Hurts threw for 190 yards (including a 91-yard bomb to Quez Watkins), rushed for 82 yards, and ran in one touchdown. It might not have been the most productive game for the quarterback, but it's one that he can definitely learn from.
"We have two games under our belts now. In this game, we see opportunities where we finished and where we didn't finish. We have to learn from this," he said.
"Win a game or lose a game, you're gonna walk away from that game wanting some plays back. We learn from it and we can only go up."
When Sirianni was asked about Hurts' performance after the game he said he needs to watch the tape, but he was proud of how his quarterback extended plays with his feet.
"It's always this fine line of throwing it on rhythm, but also extending plays if something's not there. I thought he did a really good job. There were a couple of times they (49ers defense) did a good job covering it or they got a guy through the line and he escaped," Sirianni said. Hurts was only sacked twice on the afternoon.
There are several takeaways from this loss. For Hurts, the biggest thing he learned was his lack of consistency and finish.
"The biggest thing is to finish, finish, finish," he said.
Luckily this was only the second game of a 17-game season. There is a lot for this young offense to learn, and that is exactly what they are going to do with this loss ... learn.
"Regardless of the results, the process doesn't change. Tweak the things we need to tweak, learn from our mistakes," said Hurts.
There is only time to dwell on this loss for 24 hours because Round 3 is up next – in Dallas. – Jillian Oddo
Strong outing from defense not enough Sunday
On the first play from scrimmage, defensive tackle Javon Hargrave timed the snap count perfectly and knifed his way into the backfield to wrap up rookie running back Elijah Mitchell for a 4-yard loss.
The defense immediately let the Niners know that any yard was going to be earned the hard way. And for most of the afternoon that was the case, despite coming out on the short end of a 17-11 decision Sunday at Lincoln Financial Field.
"They played exactly how they should. They reset the line of scrimmage," linebacker Alex Singleton said of the performance of the defensive line. "With that team and the run game, they are physically off the ball and they play their brand no matter the situation. Those guys, especially up front, came out with the mindset that they were going to set the line of scrimmage. Hats off to them the whole game."
The 49ers rolled up a league-high 41 points to go along with 442 yards in their Week 1 win over Detroit. On Sunday, the 49ers couldn't establish the run game early and the timing of the screen game was just off. San Francisco didn't muster a first down until the second quarter.
"I think, as a defense, we played good but, obviously, we didn't play good enough to win," defensive tackle Fletcher Cox said. "You can take some good and bad from what just happened in this game today. You learn from the good – I mean you learn from the bad and even from the good stuff, the good plays we made today. You just learn from it. You go out and practice, correct the wrong and get ready for the next game."
The 49ers capitalized on two key drives that provided enough points to win the game. At the end of the first half, the 49ers scored on an 11-yard touchdown pass from quarterback Jimmy Garoppolo to wide receiver Jauan Jennings that was keyed by a 40-yard pass one play earlier to wide receiver Deebo Samuel. Garoppolo finished the second big scoring drive, a 16-play, 92-yard stretch where the 49ers' toss plays and screen passes did just enough to keep the Eagles' defense at bay.
"That defense makes you earn it. Their front is as good as it gets. They get after you and make you earn every yard. It is just one of those bend-don't break type of defenses," Garoppolo said. "It was a good challenge for us."
The Eagles have allowed just 23 points in their first two games. The 49ers gained 117 yards on the ground, but on 38 attempts – just 3.1 yards per carry. Garoppolo was efficient not turning the ball over, but he threw for just 189 yards.
It's a good formula that the Eagles can build on moving forward.
"I thought (Defensive Coordinator) Jonathan (Gannon) and his staff did a great job of putting us in position against a team that can really run the football," Head Coach Nick Sirianni said. "Then I thought the players really executed the plan well. I thought we played – without looking at the tape, I thought we played a good game on defense." – Chris McPherson
Quez Watkins: 'We knew we had to keep attacking'
Pinned back at their 3-yard line in the second quarter, Eagles quarterback Jalen Hurts looked at wide receiver Quez Watkins and said, "we're going to go up top."
Watkins, the speedy second-year playmaker, lined up wide to the right of the formation across from cornerback Deommodore Lenoir. He noticed from Lenoir's alignment that the cornerback wanted to take away any in-breaking routes. So, Watkins faked like he was going to go inside and ran a go route past him.
Hurts had time in the pocket and lofted a perfect pass that Watkins hauled in at the Eagles' 41-yard line. Watkins turned on the jets and darted to the 49ers' 6-yard line. The 91-yard gain was the longest reception of Watkins' career and tied for the fifth-longest pass in franchise history.
"Shooters shoot, so we're going to keep taking shots and keep on moving," Watkins said. "We knew we had to keep attacking. The shots were going to be there. We just got to keep moving the ball, keep making plays."
The Eagles had two big pass plays of 20-plus yards on Sunday against the 49ers and Watkins was on the receiving end of the other one as well.
In all, Watkins had two catches for 117 yards for his first NFL 100-yard receiving performance. However, it came on the short end of a 17-11 loss to the San Francisco 49ers.
"We just kept shooting ourselves in the foot. We just got to capitalize and be detailed," said Watkins, who was looking forward to reviewing the tape on Monday.
"Just keep fighting, keep pushing. Round 3 is on the way." – Chris McPherson
Cleaning out the notebook
• Philadelphia rushed for 151 yards and a touchdown on 29 attempts (5.2 avg.). This is the first time the Eagles have rushed for 150+ yards in back-to-back games since 2017.
• Javon Hargrave posted a season-high seven tackles (two solo) with two TFLs and a QB hit. Hargrave has four TFLs this season, one shy of his total from last year.
• Alex Singleton led the defense with a season-high 11 tackles. Anthony Harris (10 total, two solo) and Eric Wilson (10 total, five solo) also logged double-digit tackling efforts.
• Jake Elliott kicked his 90th career field goal (45 yards), tying Sam Baker (1964-69) for the third-most field goals in Eagles history, behind David Akers (294, 1999-2010) and Paul McFadden (91, 1984-87). Elliott's 45-yard field goal increased his career points total to 404, surpassing Tommy McDonald (402, 1957-63) for eighth place on the franchise's all-time scoring list.