When the rookies and selected veterans arrived at the NovaCare Complex on Monday, quarterbacks Matt Barkley and Nick Foles declared how confident they were in their abilities and their chances to usurp the starting position.
It should then come as no surprise that when Michael Vick addressed reporters following the first practice on Tuesday, he was as equally confident that when Week 1 of the regular season arrives he will be the starting quarterback.
"I'm confident in myself and I'm very confident. That's the only reason why I'm standing here," Vick said. "I believe in me. I know what I can do. I know I've got a lot of years left to play this game."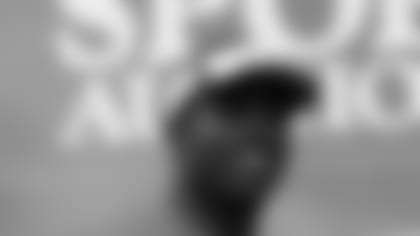 Vick started the first nine games of the season before suffering a concussion which sidelined him until the season finale. He led the Eagles to thrilling wins in three of their first four games, but finished with a completion percentage of 58.1 percent, 2,362 passing yards 12 touchdowns against 10 interceptions as the team sputtered to a 4-12 record.
This is, however, a new year with a new head coach installing a new offense. Vick restructured his contract earlier this offseason to return on a one-year deal. He declared that he came back to play for Chip Kelly and his up-tempo offense. However, Vick is mired in an open competition with the other four quarterbacks on the roster. Vick knows that he has to compete each and every day.
"The most important thing, like my coach told me (Monday), is that we have to come out here and we have to compete every day. We've got to give it everything we've got," Vick said. "From now on until my career is over, until I stop playing the game of football, I'm going to compete every day and I love that part about football. I love the competition aspect and I love what I do. I love the game that I play. That supersedes everything."
Vick still possesses amazing athleticism. He added four pounds of muscle to defend himself from the hits to try and shake the injury-prone label which he is well aware of. Vick's effortless release and arm strength are still among the league's best, although Vick said that it's important in Kelly's offense to understand the run game to visualize what the head coach is trying to accomplish. Kelly wants his quarterbacks to work within the frame of the offense, but the coach knows he must help out his players as much as possible.
"I just think he wants us to go with the flow. That's how we're playing. We're playing free-minded. We're going out there and doing it the way we know how," Vick said.
What does Vick feel that he needs to do to win the starting job?
"You just have to continue to keep leading, keep playing, stay consistent," Vick said. "That's the most important thing. Any coach wants that from their quarterback - consistency, leadership and getting it done."
Entering his 12th NFL season, the former No. 1 overall pick wants to win. And not once, but twice, Vick stressed in his press briefing that he will do it "by any means necessary" whether it's as the starting quarterback or as a coach, although the four-time Pro Bowl selection pictures himself leading on the field instead of off of it.
"I came back to win football games, to help this team win football games, by any means necessary, any way possible and that's the only reason I'm standing here right now," he said.