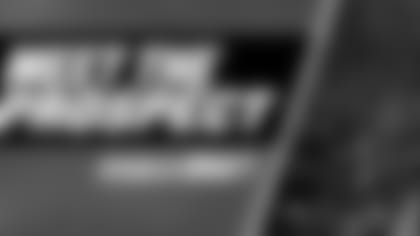 There are just 44 days until the 2015 NFL Draft. Our Meet the Prospect feature will introduce fans to the players projected to be this year's top selections. How will we select the players to spotlight? Easy. You, the fans, get to decide. Who did you pick for today's profile?
Dorial Green-Beckham may be the most intriguing prospect in this year's NFL Draft. At 6-5, 237 pounds, Green-Beckham is probably the most physically impressive of a very deep group of incoming receivers and his immense potential was preview during his sophomore season at Missouri, when he caught 59 passes for 883 yards and an impressive 12 touchdowns.
But that standout season occurred in 2013, prior to Green-Beckham's dismissal from the Missouri team following multiple off-field incidents. From there, Green-Beckham transferred to Oklahoma, where he practiced with the Sooners for the entirety of the 2014 season before declaring early for the draft.
Setting aside Green-Beckham's off-field behavior, rumored questions about work ethic and the Eagles' history of avoiding such players in the draft under Chip Kelly, there are questions about his ability to translate to the NFL on the field as well. Green-Beckham is said to be an imprecise route runner who occasionally shies away from contact and is a non-factor in the run game.
Of course, even with those caveats, Green-Beckham is the kind of matchup nightmare on whom coaches can dream. His ability to win jump balls and make contested catches will no doubt make some teams smitten with the idea of putting a 6-5 receiver with 4.49 speed on the outside. On talent alone, he's a likely first-round pick. How much everything else matters, we'll find out on draft weekend.
Imposing physical specimen with outstanding height, weight and speed numbers. Smooth, effortless strides to chomp up cushion and blow by overconfident corners. Runs routes with forward lean and can activate second gear when he chooses. Rare catch radius with ability to pluck would-be interceptions and turn them into catches. Has soft, sure hands. Can see a throw late and still haul it in. Able to drive cornerbacks down the field and then break route off for wide-open look underneath. Shows flashes of special ability when ball is in the air. Plus body control. Can twist and contort in any direction in order to get his hands on a throw. -- Lance Zierlein