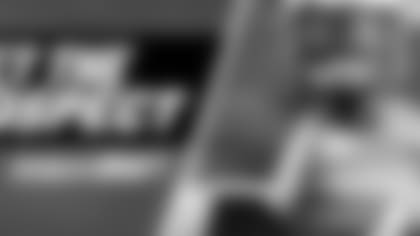 We are only 34 days out from the start of the 2015 NFL Draft. Our Meet the Prospect feature will introduce fans to the players projected to be this year's top selections. How will we select the players to spotlight? Easy. You, the fans, get to decide. Who did you pick for today's profile?
Adrian Amos was a valuable chess piece on the back end of the Penn State defense for the past four seasons.
In his freshman season, Amos was a backup cornerback and special teams player before becoming a full-time starter as a sophomore. Prior to his junior year, Amos was moved from cornerback to safety and back to cornerback again patching up holes along the way. Amos settled in at safety for his senior season and earned All-Big Ten honorable mention accolades for the third straight season.
The 6-0, 218-pound Amos started 37 games in all during his tenure at Happy Valley. As a senior, Amos had 30 tackles, seven pass breakups and three interceptions. Over the past two seasons, Amos posted 12 pass breakups and four interceptions.
Projected as a safety in the NFL, Amos' comfort level at both defensive back spots will serve him well in the transition to the next level. He can even line up as a slot cornerback in subpackage roles. The Baltimore native is also a noted gym rat with a tremendous work ethic.
Athletic with good range. Fluid in space with easy backpedal and smooth hips. Has ability to turn, run and recover when ball is in the air. Good route recognition. Trustworthy in coverage and is rarely out of position. Can line up defense. Offered versatility in coverage. Played some slot corner in sub packages. Outstanding in zone coverage at Penn State. Can crowd receivers and closes throwing windows. Allowed just 3.9 yards per target in 2014. Has twitch to trigger and close on throws. -- Lance Zierlein