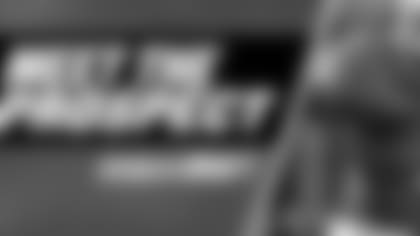 There are just 41 days until the 2015 NFL Draft. Our Meet the Prospect feature will introduce fans to the players projected to be this year's top selections. How will we select the players to spotlight? Easy. You, the fans, get to decide. Who did you pick for today's profile?
After trading LeSean McCoy at the start of the league year, could the Eagles draft a similar-type back in Miami's Duke Johnson?
Johnson compared his game to the Eagles' all-time leading rusher. Johnson earned first-team All-ACC honors last season as he finished with the second-highest single-season rushing total (1,652) in Miami history as well as the second-most career rushing yards (3,519).
If the Eagles have interest, Johnson's running style meshes with their zone-blocking scheme.
"It matches with a zone scheme because everyone is flowing, you see a seam, you want to hit it as fast as you can," Johnson said.
The 5-9, 207-pound Johnson gained nearly 1,000 yards rushing (947) and scored 11 total touchdowns as a true freshman in 2012. Ranked as the No. 1 running back prospect in the nation coming out of Miami Norland High School, Johnson is just 21 years old and won't turn 22 until September.
A versatile threat, Johnson had 69 career receptions (38 last season) for 719 yards and four touchdowns. He also scored two touchdowns on kickoff returns as a freshman in 2012. Johnson prides himself on that ability to create favorable matchups.
"Being able to receive out of the backfield is the No. 1 thing," Johnson said. "I'm a mismatch with linebackers. I can catch the ball really well."
Explosive burst and plays with suddenness. Elusive in tight quarters. Has lightning in his feet. Has hips and feet to stop and start without stalling. Rare ability on stretch plays to hit cutback lanes that other backs can't get to. Runs with patience and a well-timed burst. Has great feel as zone-scheme, one-cut runner. Changes direction without breaking stride. Courageous runner. Shows no fear when getting downhill. Strong-willed competitor with toughness. Has second gear around the corner and can erase the angles. Gets small(er) through the hole and runs behind pads. Fights through arm tackles. Regroups and balances himself after initial contact. Reads and sets up routes and adjusts to poorly thrown balls. -- Lance Zierlein