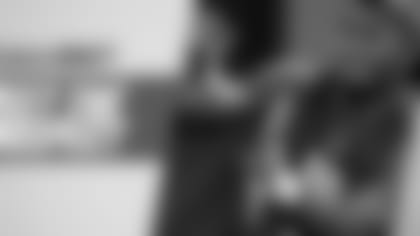 One of the top skill-position players in this year's class, Ole Miss wide receiver Laquon Treadwell is the first player in our Meet the Prospect series. As a junior, the projected first-round pick hauled in 82 catches for 1,153 yards and 11 touchdowns, earning All-America and first-team All-SEC honors along the way and being named a finalist for the Biletnikoff Award, given to the nation's most outstanding receiver.
Treadwell stands 6-2 with long arms (almost 34 inches) and a 221-pound frame. Despite not having elite straight-line speed, he's a very good route runner and has great hands and leaping ability, making him an attractive target in the red zone. More of a possession receiver than someone who will stretch the field, he uses his strength and physicality to fight for extra yards after the catch. Treadwell began high school as a quarterback before transitioning to wide receiver and cornerback as a sophomore. This past season at Ole Miss, he was used on three occasions as a passer, completing all three of his attempts for 134 yards and a touchdown.
Many experts expect Treadwell to be selected somewhere around the Eagles' first-round selection at No. 13.
Scouting Report From NFL.com
"Good height and overall length. Smart receiver with a competitive edge when the ball is in the air. Catch- winner. Has a natural feel for the nuances of the position. Has feel for defender and is careful to work back to throws while shielding cornerbacks from the ball. Hands catcher with adequate body control who can climb the ladder and high point catches over defenders. Truly shines with ball-tracking skills and rarely gives away location of the ball with early movements when racing downfield against cornerbacks. Has subtle shiftiness in his routes thanks to his clean footwork. Can stagger and stutter feet while still working through his routes. Zone eater who has great understanding of positioning in space and giving his quarterback cleanest throw possible. Uses quality stiff¬arm after the catch for additional 'RAC' yards. Willing to block, but has size and temperament to become much better at it." - Lance Zierlein
"The questions, they don't really bother me. I still have to go out there and play and have the production on the field. I don't let it get to me. I'll run what I run and just stay confident in myself." - Treadwell on questions about his speed