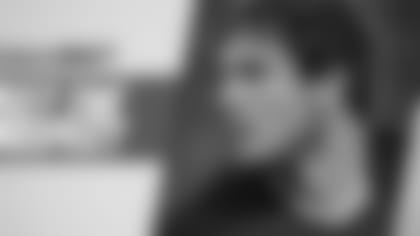 Jack Conklin is one of the top offensive line prospects in this year's class, but just four years ago he didn't even know if he'd be playing college ball at an FBS school. The son of his high school coach, he didn't receive a single scholarship offer from a major program, prompting the Plainwell, Michigan native to walk on at Michigan State. He redshirted in his first year, but quickly earned a full scholarship after impressing teammates and coaches with his work ethic and positive attitude in practice.
As a redshirt freshman, he started 13 of 14 games between left and right tackle for the Spartans, earning Freshman All-America honors in the process. As a sophomore, he played exclusively at left tackle and earned second-team Big Ten honors. Protecting the blind side of quarterback Connor Cook as a junior in 2015, Conklin was awarded All-America recognition from multiple outlets and was a consensus first-team All-Big Ten honoree.
At nearly 6-6 with a 308-pound frame, Conklin has ideal size and the combination of strength and toughness to excel at the right tackle position. Some have compared him to former Eagle Jon Runyan because of his nasty demeanor and physical playing style, and he figures as someone who can step in and start right away at the next level.
Offensive line is an area that executive vice president of football operations Howie Roseman recently noted will be a position of special focus in the near future. It's certainly possible that the Eagles' first-round pick will be used to buttress that unit, one that struggled in 2015 and will eventually need to adjust to life without Hall of Fame left tackle Jason Peters. Right tackle Lane Johnson may eventually slide over to the opposite side of the line, but if and when he does another player will have to take over at his current position. Perhaps Conklin could be that player.
Scouting Report From NFL.com
"Scrappy with ability to recover when beaten. Showed Oregon's DeForest Buckner what time it was by bouncing him around at the point of attack. Plays with good core strength and impressive power in his hands. When he latches into defenders' framework, he makes it difficult for them to disengage. Works well with guards in combination blocks. Leveraged second-level climbs and careful not to climb too high and allow linebackers to slide underneath him. Makes strong initial contact as a run blocker and rolls hips up underneath him to uproot defenders and secure his blocks. Technically sound in pass protection with a wide base and ability to mirror. Consistently shoots inside hand first and lands his punch with good accuracy. Drops anchor like a door jam in pass protection sinking his rear and getting arm extension with inside hand placement." - Lance Zierlein
"I was actually crazy I was looking on signing day to see what we got. I was thinking where was I four years ago and I was thinking I had no idea where I was going to be. To be here now four years later ... possibly being a first-round pick, it's crazy. I think about it all the time. It's the chip-on-the-shoulder mentality that's the thing that drives me every day to see how far I've come and how close I was to not having this chance." - Jack Conklin on going from walk-on to potential first-round draft pick