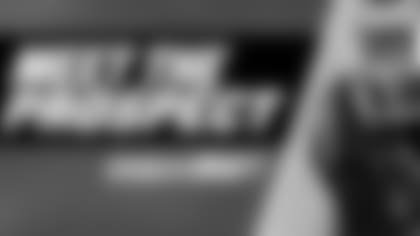 We are just 26 days away from the start of the 2015 NFL Draft. Our Meet the Prospect feature will introduce fans to the players projected to be this year's top selections. How will we select the players to spotlight? Easy. You, the fans, get to decide. Who did you pick for today's profile?
Is Byron Jones just a workout warrior?
No, but that's a common misnomer following a Combine performance for the ages back in February.
The 6-1, 199-pound Jones set a world record in the broad jump with a leap of 12-3, which was eight inches farther than the previous Combine record. He was also one of the Combine's top performers in the vertical jump, three-cone drill, 20-yard and 60-yard shuttles.
Jones wasn't on the mainstream radar before his exposive outing in Indianapolis because he missed the second half of the 2014 season after undergoing shoulder surgery. A former safety, Jones converted to cornerback prior to his junior season in 2013 and started the final 19 games of his college career there.
A team captain in 2014, Jones had 223 career tackles, eight interceptions and 18 passes defensed in 43 games (37 starts).
Furthermore, Jones cemented his position as one of the premier cornerbacks in this year's draft class with a 4.4-second 40-yard dash at his pro day workout. Jones did not run the 40 at the Combine due to his shoulder injury, which also kept him from playing in the Senior Bowl.
Jones checks the boxes when it comes to size, athleticism, positional versatility and character. The shoulder injury and level of competition are the only slights, but Jones has all of the tools to prove that he's more than an athletic marvel in the NFL.
Extremely smart and instinctive on the field. Shows above-average anticipation of routes. Is able to sniff out rub routes and works to avoid them. Flashes recovery speed downfield and gets head around to find ball and make a play on it. Uses instincts and adequate closing burst to disrupt the catch. Generally reliable tackler. Team captain and leader on the field and in the locker room. Scouts say he's willing to play hurt and inspires his teammates. -- Lance Zierlein