The NFL Draft is only 23 days away. Eagles scouts have studied prospects since last spring, gathering as much detailed information as possible. This is the time of year when coaches get involved in the process. They travel to pro days and work out prospects to find out which guys are the best fits for the Eagles.
Here are five prospects who would make sense for the Eagles with the 32nd pick in the first round.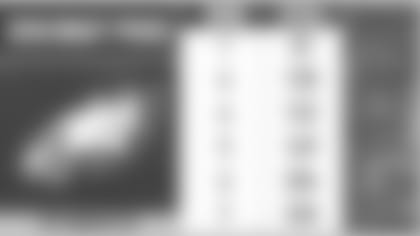 WR CHRISTIAN KIRK, TEXAS A&M
Howie Roseman knows that the draft is about both the present and the future. You don't just draft players to help you right away. You also must look a year or two down the road. The Eagles don't need help at receiver right now, but with Mike Wallace on a one-year deal and Nelson Agholor possibly in the final year of his deal, the future is less certain.
Kirk played mostly in the slot for the Aggies, but he's big enough and fast enough to play outside. He is outstanding at making plays after the catch. Kirk would be an excellent fit for the slants and quick screens the Eagles like to throw. He also has the speed to stretch the defense. Kirk caught 234 passes in college, showing the ability to be a workhorse receiver. Twenty-six of those receptions went for touchdowns, so he showed the ability to be a playmaker as well.
Kirk could offer immediate impact with his ability as a punt returner. He averaged 22 yards per punt return in college and ran six of them back for touchdowns. That's amazing production in just three seasons. Doug Pederson talked about wanting better play from special teams. Adding a player like Kirk would certainly give the return units a boost. He has the ability to make the first tackler miss, which is critical for all good returners. Kirk is strong enough to break arm tackles and has the speed to break plays wide open when he gets some room to run.
The Eagles bring back a lot of talent on defense, but they do have two areas to address in the lineup right now. Patrick Robinson left in free agency so there isn't anyone locked in at the slot. Veteran Corey Graham hasn't signed anywhere. He was the No. 3 safety last year and played in various nickel and dime packages.
Reid played in the slot and at safety while at Stanford, so he would be a really interesting addition for Jim Schwartz and the defense. After studying his tape, I think Reid would be best used in the slot. He has excellent man cover skills. He has quick feet and the kind of agility you need to cover on the inside. Not every defensive back is cut out for that role.
Reid was a playmaker in college. He had 6.5 tackles for loss in 2017 and picked off five passes. That shows you that he is an active player, making plays in both the run and pass game. You draft Reid for his coverage ability and ball skills. The Eagles could develop his ability as a tackler.
While I like him in the slot, the coaches could decide he is a better fit at safety. They could use him in that role or move him around to do various things. Reid is a smart, versatile player. These days, coaches love to have defensive backs they can use creatively. Just look at all the things the Eagles do with Malcolm Jenkins.
The Super Bowl was a great game, if you like offense. The Eagles' defense made one impact play and that was a key part in the team winning the Super Bowl. The coaches know the defense must play better against veteran quarterbacks this year. Philip Rivers, Eli Manning, and Tom Brady all gave the Eagles fits last season.
The best way to bother a pocket passer is with pressure up the middle. Bryan is, in my opinion, the quickest, most explosive defensive tackle in the draft. He had four sacks in 2017, but that doesn't come close to telling just how disruptive he was.
Bryan is 6-5 and 291 pounds. When he explodes off the ball, Bryan is incredibly difficult to control. He draws holding penalties. He disrupts blocking schemes. He moves the quarterback off his spot, as Schwartz likes to say.
Bryan has a great motor and will chase plays all over the field. He has good agility for such a big man. I think he could play some snaps at defensive end if called upon. Bryan would be an excellent fit in the Eagles' attacking defense.
TE HAYDEN HURST, SOUTH CAROLINA
Brent Celek was recently cut by the Eagles and Trey Burton left in free agency. That leaves the team with one proven tight end, Zach Ertz. They have some young prospects on the roster but need to bring in talent at the position.
A lot of fans have interest in Mike Gesicki, the Penn State star. He would be a lot of fun to watch in the Eagles' offense, but Gesicki is primarily a receiver. The Eagles need someone who can block and catch. Hurst is a guy who can do both.
Hurst is a former minor league baseball player. He is a skilled athlete but is also tough, physical player. Celek was a terrific blocker for the Eagles and a big part of the run game. Hurst could help fill that void with his ability as a blocker.
G WILL HERNANDEZ, TEXAS-EL PASO
The Eagles won the Super Bowl because they were so good on the line of scrimmage. Roseman and Pederson believe in building up the offensive and defensive lines with as much talent as possible.
Hernandez is a massive man at 6-3 and 340 pounds. He was a dominant left guard for UTEP and then played brilliantly at the Senior Bowl in late January. Pederson loves big offensive linemen and you could see where he would love adding a player like Hernandez.
Stefen Wisniewski is slated to be the left guard this year, but things are wide open behind him. Hernandez could sit for a year before taking over the spot. He has the potential to be a dominant blocker with his power and nimble feet. Brandon Brooks and Hernandez would give the Eagles a pair of massive, talented offensive guards to protect Carson Wentz and open holes in the run game.