Camille Carr worked with PhiladelphiaEagles.com as our Junior Reporter during the Eagles' open practice on August 26 at Lincoln Financial Field. Amid the chaos of Training Camp practice, she narrowed her focus onto a promising Eagles rookie ...
It is the final week of preseason training for the Philadelphia Eagles. In the August heat, players run drills, hoping to impress new head coach Chip Kelly. The practices are quickfire; drills are broken up into six or eight minute segments, with a horn signaling when it's time to move onto the next station. The anticipation and nervous energy is clear. A large group of the players training now will not be part of the Philadelphia Eagles for much longer. The player wearing No. 2 stands out in particular.
Matt Barkley is the third-string quarterback on the Eagles. He is also the all-time leading passer in PAC-12 and USC history. During his time at USC, he passed for over 12,000 yards and threw 116 touchdowns.
Barkley, who has never really been a backup, is ranked No. 3 in Kelly's roster of quarterbacks.  Before the final preseason game, coach Kelly said Barkley would be sharing the time with Nick Foles in the Thursday night game against the New York Jets.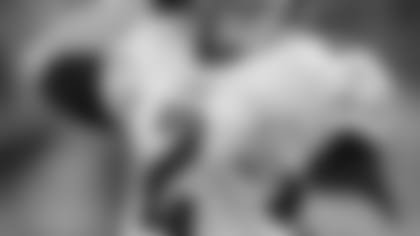 The rookie, who did not play in the third preseason game against the Jacksonville Jaguars, will be getting a chance to prove himself.  I asked him about his expectations for the game.
"It's just another opportunity to go out and play," Barkley said. "I thought I was going to get in versus Jacksonville but that wasn't the case, so you just have your hopes up for this week. It's a chance to show that you can move the ball, you can be a valuable asset to this team."
It is plain to see that this young talent is eager and determined to make his way on the Eagles. When speaking with him, he was clear and down to earth. His drive was obvious and his knowledge of the game immense. I asked him what the Eagles need to do to be successful.
"I think we need to calm down and be consistent in what we're doing, protect the ball on offense and eliminate silly mistakes that are killing us," he said. "Because really the only team that has been hurting us has been the Eagles, you know with the penalties and turnovers. We have proven that we can move the ball and our defense has done pretty well so I think if we just focus on eliminating those mistakes we'll be pretty good."
In terms of his contribution to the team, Barkley is ready to prove himself and work hard.
"I think [I need to] just master the offense, do whatever I can to help everyone around me," he said. "And if it's help the defense get better I'll do that. If it's the offensive guys I can do that but just to try and get better every day in terms of throwing mechanics and accuracy and grow as a leader."
In his final action of the preseason, Barkley came on in the second half against the Jets after the Eagles had only scored six points. He completed 13-of-27 passes for 134 yards. His high point of the game was a 16-play, 80-yard touchdown drive that tied the game in the third quarter. In an up and down game, Barkley's low point was an interception that was returned by the Jets for a touchdown in the fourth quarter. Barkley completed the game but the Eagles ultimately lost 27-20.
It was an erratic, but hopeful, game for the rookie.
"I've kind of been all over the place," Barkley told ESPN. "It's a different kind of rhythm you have to try and get into. It's kind of bits and pieces and I've managed to do as best a job I can. I'm learning as much as I can."
Kelly agreed with his quarterback, but offered more optimism about the former Trojan's future.
"He's kind of up and down at times," said Kelly. "I'm excited by Matt's future."
I'm with Coach Kelly. Matt Barkley is an exciting player and I'm excited to see his next game. Whenever that may be.