Adding a player like Felix Jones to an already-loaded group at running back gives the Eagles tremendous depth and a lot to look at for the rest of the spring through the training camp weeks. Bringing him on board is a low-risk, high-reward move and makes all kinds of sense.
What does it mean for the running back position? It means that there is another very talented player competing for a roster spot and playing time. It means that, as head coach Chip Kelly wants, there is added competition. It means that the Eagles, while they were very pleased with what they had at running back, aren't about to shy away from a player they think potentially can upgrade their roster.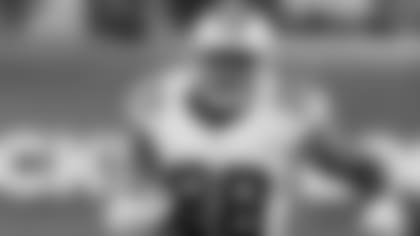 Jones worked out for the team last week and joined practice on Tuesday. We have seen Jones enough to know how dangerous he can be. He's fast and he's productive, averaging 4.8 yards per carry in his career. But for whatever reason, Jones' game never took off to the Pro Bowl level many expected from him while he was in Dallas. He played there for five seasons and was a good combination back, but some injuries stunted his progress and the Cowboys rotated their backs, rather than rely on Jones to carry the brunt of the workload.
It's certainly an interesting signing, for the Eagles have an enviable situation at running back. LeSean McCoy is healthy and seems a perfect fit for this go, go, go offense. Bryce Brown, in his second season after so much promise in 2012, has the talent to be a big-time player in this league. Chris Polk is more power than finesse, and he's looking to prove himself to the coaching staff after he spent his 2012 rookie season learning the NFL ways. A couple of rookies signed after the draft, Miguel Maysonet and Matthew Tucker, are working to edge their way into the rotation.
Jones has a lot to accomplish ahead in his NFL career. He has had some very bright moments, bright enough that many believed he would be a star back in this league. But the injury bug has been biting, particularly early in Jones' career, and now he's ready for a new situation.
Jones has also been a playmaker returning kickoffs, and he's likely to get a look there as the Eagles want more big-play ability in their return game. Jones is the only player in the NFL since 2008 with a 60--plus- yard running touchdown, a 70-plus-yard receiving touchdown and a 90-plus-yard kickoff return for a touchdown.
It appears that Kelly wants his backs to do a lot of things in the offense, that he wants explosiveness and a lot of options in the backfield. With the way Jones darts and finds openings and then has so much success in space, it would seem like he's the right kind of back to come in and compete for a roster spot and playing time.
And at the end of the day, the depth chart at running back, once it is established, may be as talent-laden as the Eagles have had. Who knows how the carries and the opportunities in the passing game will be sliced, but, boy, it looks great in mid-May. How many teams have three players on their spring roster who have started NFL games and have had 100-yard-plus outings at the halfback position?
There is nothing guaranteed, of course, and Jones is in bounce-back mode after some down times in Dallas as Demarco Murray took over the running game duties there. You've got to love the competition, though. Suddenly, another accomplished NFL back is in the mix -- and that's the best way to describe this, as Jones is in the mix to compete at running back here -- to make this running game as lethal as it possibly can be.
It's a good move, then. It's a move made not based on need, but on the recognition that the Eagles want to challenge every position and that Jones is a player who has a lot of hunger and a lot to prove as he looks to get his game back on track and help the Eagles become as dynamic as possible at the running back position and, with his explosiveness, in the kickoff return game.