For the first time in his brief career, first-round pick Lane Johnson lined up as the starting right tackle in front of the assembled media on Monday. With Jason Peters absent, Johnson took over with the first unit while Dennis Kelly slid to Peters' left tackle spot. Because Peters was out all of last week, it's likely that this wasn't Johnson's first practice with the starters, but it was his first time presented as a first-teamer.
So, was anything different for the rookie?
"Not really, just come out here and do the same thing over and over again, line up against different guys," said Johnson matter-of-factly. "It's pretty much the same deal."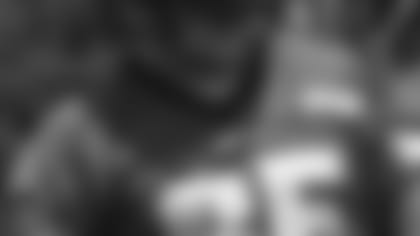 The biggest change for Johnson from second team to first team might be the level of competition. In many cases, he was assigned to block last year's first-round pick, Fletcher Cox.
"They've been playing a lot so they have some moves up their sleeves and sometimes they'll break it out when you least expect it," Johnson said. "So you have to be disciplined with your technique and that's pretty much what it is.
"You just have to know when to hold back sometimes and know when to let go. You just have to know when to use the right tools at the right time."
Technique-wise, Johnson said he's had a primary concentration early on under offensive line coach Jeff Stoutland.
"Just trying to use my hands more," he said, "try to not grab (as much) and be more forceful in my hands, punching."
Johnson said that he's already seen a big improvement in himself since arriving for the team's rookie camp on May 10.
"Yeah, I feel I've definitely progressed," Johnson said, "just learning the playbook and being more comfortable where you're not thinking as much, you're just playing and reacting."