During his eight seasons with the Eagles, Jeremiah Trotter played the role of a fierce, hard-hitting star middle linebacker. Now, three years removed from the gridiron, he'll be starring in the role of Benjamin "Big Ben" Jones in the independent feature film, The North Star, which premieres Thursday at the County Theater in Doylestown, Pa. and Saturday at the Newtown Theatre in Newtown, Pa.
Based on a true story from the mid-1800s, the movie tells the adventures of two slaves, Big Ben and Moses Hopkins (played by Thomas C. Bartley, Jr.) who escape from a Virginia plantation with the instructions to follow the North Star. During their journey to hopefully reach freedom, the courageous men combat against hunger, the weather and the threat of being captured. They would eventually reach Buckingham, Pa., where they are assisted by townspeople associated with the Underground Railroad, and "Big Ben" would become aligned with a local abolitionist faction.
Trotter's own story is not a case of being bitten by the acting bug. His initial step toward appearing on the big screen actually came about as a favor for a pal.
"A friend of his contacted him looking for guys to audition for Big Ben (who was) 6-foot-10 and they were looking for a guy about 6-foot-10. But the guy had to have the right personality. He called me and said, 'You should audition.' I said, 'Man, I'm the Axeman. I don't do any acting,'" laughed Trotter.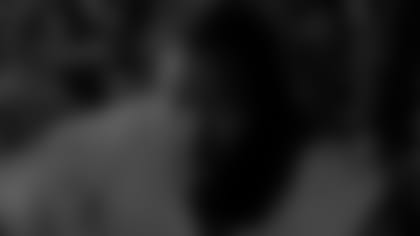 "He went on, 'You've got to come meet them.' I was like, 'Yeah, Okay, Okay.' You know one of those Okays just to get off the phone. So he called me the next day and said, 'Listen, we're waiting on you.' He was so persistent. I finally had to tell him I'm not going to come audition. He said, 'Why? I told them you're coming. They're excited. At least just come meet them and shake their hand.'
"So I went up there and they started telling me about the script, and that really sparked the interest. I'm listening and once they got finished talking, they were like, 'Do you want to read a couple lines?' I said, 'Sure, why not?'
"I give a reading with another guy and they loved me. I'm from the South. I already had that Southern dialect and the words that I was reading kind of came natural for me. Obviously, I'm not 6-foot-10, but all the actors that I'm working with are really small so I look like I'm 6-foot-10."
Trotter's diminutive co-stars include Bartley, Clifton Powell, John Diehl, Lynn Whitfield and Michael Rapaport.
Filming last summer throughout Bucks County, Trotter's thespian schedule somewhat mirrored his former football days. Training Camp two-a-day practices became six weeks of 14-hour days.
"I didn't know this much goes into acting," Trotter said. "Bartley and I are in the woods running from slave farmers. We hide in caves. After the first day of shooting I was in the shower for an hour just washing off dirt. The whole bottom of the tub was just brown. I was like, 'Damn! I didn't get this dirty playing football.'"
Having to deliver lines and hit his marks while breaking a sweat may have surprised the four-time Pro Bowl linebacker, however, there were other eye-opening moments.
"When people turn on TV and watch a football game, you see two teams going toe-to-toe. You see cheerleaders. You see the high definition TVs and different camera angles. But sometimes people don't understand what goes into all of that happening," Trotter said.
"They don't see Mondays through Saturdays, the grind, in the meeting rooms breaking down film, on the practice field, in the cold tub, in the training room, just trying to get to Sunday. In the movies, you see the final cut, the final product, but you don't see the 20 takes that you had to get the different camera angles. One day we were climbing this hill, I say hill, but it was almost like a mountain, just getting some out-cuts of us running and we had to do it about 15 times. My legs hurt the next day like if I was in the first three days of Training Camp.
"But I had an absolute blast. It's a really great experience and I had a great time. I really didn't know I had acting skills until I did it the first time."