Jason Kelce took the next step in his return to prominence for the Eagles on the same field from which he was carried nearly 11 months ago. The center, who has been all but a full participant for most of Training Camp thus far, played his first game since tearing his ACL against the Baltimore Ravens in Week 2 of the 2012 season.
"It was a really happy day all around for me," Kelce said following the preseason opener against the New England Patriots. "Last time I was on the field, unfortunately it was a torn ACL. To be back out there, to be competing in a game-type situation like that, it felt really good."
Kelce has played exclusively with the first-team offense throughout the preseason and is one of three starting offensive linemen who finished 2012 on injured reserve. He, Jason Peters and Todd Herremans, combined with the first-round rookie Lane Johnson, figure to provide the Eagles with a formidable offensive line. First thing's first though, Kelce has to return to form himself.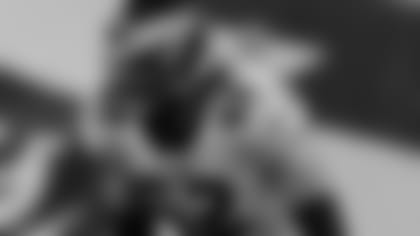 I felt like I was back to my old self "for the most part," Kelce said. "I think there are still some mental things with the new offense and the calls and everything that the offensive line is still getting used to and acclimated to and that will happen throughout Training Camp, but physically everything felt pretty much back to normal."
The starting offensive line, with Allen Barbre substituting for Peters at left tackle, certainly looked the part on Friday night. Both Michael Vick and Nick Foles were afforded plenty of time in the pocket, save for the one lapse in protection that led to Foles' fumble - for which Kelce said he'd need to examine the tape before alloting responsibility.
"Mike came out strong, had a great pass to (DeSean Jackson) to start the game out," Kelce said. "Nick, he got going and once we put that 10-play drive together he was really moving pretty well too. I'm happy that both of them played well.
"They both put scoring drives together and I think that'll be an interesting matchup to continue to watch."
The other interesting aspect of preseason game No. 1 for the offensive line was the unveiling of an occasional up-speed tempo. During Foles' time in the game with the first-team offensive line, there was a noticeably faster pace to the offense. In fact, the 10-play, 66-yard touchdown drive led by Foles lasted on three minutes and 28 seconds on the game clock. Utilizing what Chip Kelly has called "a tool in our toolbox" is something Kelce is excited to employ come the regular season.
"I love playing at a faster pace," Kelce said. "Whenever the defense is tired, it makes your job that much easier. I'm a big fan of running at that pace."
Eagles fans, meanwhile, are simply happy to see Kelce running at all.