It's hard to think of wide receiver DeSean Jackson as a rookie after what he's done this season.
Jackson finished second among all rookie receivers in the NFL in catches and receiving yards. He set the franchise rookie record for catches and receiving yards by a wide receiver while leading the entire team in both categories this season. He was the first player since Brian Westbrook in 2003 to score a touchdown with a catch, a run and a punt return.
"It's been the best I can ask for," Jackson said. "I'm not one of those guys that asks for too much. I think I did what I could do, and it's been a great year to learn and get a lot of experience. … I'm just patiently waiting."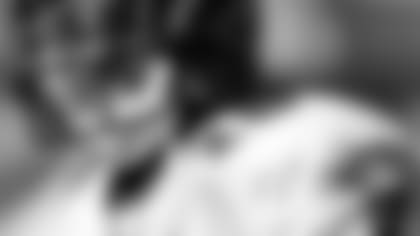 Jackson led the Eagles with 62 catches for 912 yards. He also had three total TDs
But it's not just the production that's made Jackson stand out. It's how he's handled all of the pressure put on his shoulders. Thrust into an expanded role when Kevin Curtis and Reggie Brown were injured at the beginning of the season, Jackson tallied back-to-back 100-yard receiving games to start his career.
He bounced back after a disappointing showing in Chicago – he fumbled away a punt and ran a bad route that led to an interception – to return a punt for a touchdown the following week against Chicago. After he dropped two passes that could have helped tie the game late in the loss at Washington, he had a key 34-yard reception on a perfectly thrown ball by Donovan McNabb to aid the rout vs. Dallas.
Now that the playoffs are here, Jackson wants to simply treat it as a regular season game.
"We just got to go out there and play football and just have fun, which we would like to do," Jackson said. "Throughout this whole season, we never got down on ourselves and we always knew we could do it, so that's where we are right now."
At the same time, though, there are many facets of Sunday's game that favor Jackson's big-play ability. For one, the game is going to be played on turf which Jackson admits will aid in his speed. The Vikings are ranked No. 1 in run defense, but No. 18 in pass defense. And, as a returner, the Vikings have allowed four punt returns for touchdowns this season.
But Jackson doesn't want to get ahead of himself.
"It's a big game, and we just want to keep our hopes alive for the playoffs and the Super Bowl," Jackson said. "So, like I said, we know what it takes, and we're going to go out there and do what we have to do."
And in addition to the 52 other players on the Eagles roster, Jackson knows he will have plenty of support on Sunday. When Jackson heard that the Metrodome was not yet sold out for Sunday's game, he simply responded, "I know the Eagles fans will be there."