DeSean Jackson was in Jeremy Maclin's position a year ago.
Then a wide-eyed rookie from Cal, Jackson was making the adjustment from college to the NFL. After a stellar rookie season, one in which he caught 62 passes for 912 yards and a pair of touchdowns, Jackson can look down a few lockers from his stall at the NovaCare Complex and understand exactly what first-round draft pick Jeremy Maclin is going through.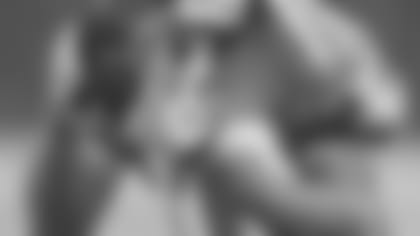 WR DeSean Jackson
"I'm telling him all of the things (wide receivers coach David) Culley is going to be telling him," Jackson said on Friday following the team's first mini-camp practice. "He's just going to have to go through it and it's going to have to take some time. It's something that he's going to have to go through."
Jackson raised the standard for rookie wide receivers in Andy Reid's offense a year ago. The 5-10, 175-pound receiver set the franchise record for the most receptions by a rookie wideout and was the first rookie to lead the team in catches since Keith Jackson in 1988. Jackson's numbers were the exception, rather than the rule in Reid's 10-plus years in Philadelphia. The opportunity for Jackson to succeed came after a stellar training camp and preseason combined with injuries to starting wide receivers Kevin Curtis and Reggie Brown. Once Jackson got in the lineup and posted 100-yard outings in each of his first two games, Reid had no choice but to find a spot for him in the lineup. The pressure of having to contribute immediately helped shape Jackson into the player he is now.
"Without pressure, you can't push yourself," Jackson said. "The pressure last year prepared me for my career."
The question now is what will Jackson do for an encore? Jackson doesn't care about his individual numbers as long as the team wins.
"Last year, I had to come in show everybody what I had to do," Jackson said. "I'll say this year I'm going out to progress and keep doing my thing. Whatever it is we need to do we need to do it as a team, it's not really about any individual because at the end of the day we have to come together as a team."
One thing Jackson wants to continue from last season is his job as a punt returner. Including the playoffs, Jackson had three punt returns of 60 yards-or-more and took one all the way back for a touchdown. Maclin also comes in with extensive return experience. At Missouri, Maclin averaged 11.7 yards per punt return last season and also took one back to the house for a touchdown.
Jackson said that he didn't watch the draft, but caught wind from friends that the Eagles had traded up to select a receiver in the first round.
"When I heard of it, I said, 'That's cool.' I hope he can come in and help out," Jackson said. "We have a good, solid group of receivers here, but if he comes in and contributes it will be a good thing."
Maclin is lining up as a split end. Jackson is a flanker, so he can't pass along every bit of advice. The biggest key to success, Jackson says, is putting in the work.
"If he's good like everybody is saying and he comes in and puts (the work) in, I mean definitely (he can succeed early)," Jackson said. "He definitely has some great skills. It's not about comparing (me to Maclin). He's a great talent."