DeSean Jackson got his butt kicked on Tuesday morning, which may be the best welcome he could have ever received in the NFL. It didn't come easily to him. He took rep after rep with only four receivers on the field. He was exhausted.
Score it Practice 1, Jackson 0.
"Man, did it ever kick my butt," said Jackson after the second practice of his first day. "I'm still not used to this heat and I admit it, I was bending over trying to get some air every chance I could. It was pretty crazy.
"At the same time, I know it is something I have to go through. I've never been in an NFL training camp and with only four receivers here, you're moving. I can't worry about that, though. I have to make this team and show that I can play at this level.
"Yeah, it definitely kicked my butt, but the second practice was a lot better. I was a lot more comfortable and I went out and handled my business."
Jackson is the player to watch in this pre-veterans time of training camp. There aren't a lot of players among the two dozen here who are going to make the team and play significant roles. Those are the facts, unless something strange happens in the course of time. Jackson brings with him a flair, a reputation, and the sky-high expectations of a player who has been a star at every one of his previous football stops.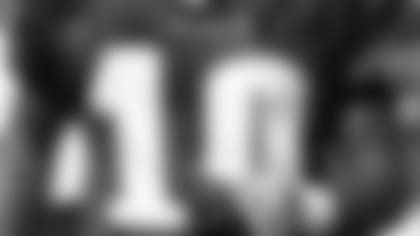 WR DeSean Jackson
But, as Jackson says, his time in the NFL is young. He missed practices in the spring after suffering a hamstring injury, which is completely healed. On the field on Day 1 of the practices, Jackson showed the skills that made the Eagles take him in Round 2 of April's draft: He is cat-quick in and out of his routes, he has excellent hands -- although Jackson dropped the first pass thrown to him in seven-on-seven drills in the morning -- and he has an innate knack for finding space.
A lot of times on Tuesday, Jackson lined up in the slot -- as the Z receiver -- and found a hiccup of air in the coverage and then slid to create some separation against the defender. And each time I watched Jackson make that move, he was the go-to receiver and he made the play.
"I'm learning every day. That's the thing about me. I don't know the offense yet, I can't say that. But I feel very comfortable about the plays that I've been given so far. I'm remembering them and I'm running the plays well," said Jackson. "I don't feel like I'm making a lot of mistakes. It's my rookie year, and the more I am on the field the more it will slow down for me. I have a lot of things I have to go through."
Tuesday was the first time Jackson practiced in front of Eagles fans, and there were some hearty folks on hand for the morning practice when Jackson battled the heat and the exhaustion. He took his helmet off and fans yelled, welcoming him Philly-style.
"They were telling me, 'Hey, rookie. Put your helmet on. It's the NFL.' I know what they're saying. It went in one ear and out the other ear. I have too much else to focus on," said Jackson. "The fans are great. I've signed some autographs, met some of them. I know they love the Eagles."
The pads go on in time for a full house of Eagles fans on Saturday and Jackson knows what awaits: A lot of questions about his size and his durability taking hits from players who are bigger, faster and stronger.
"I think I've been hearing that my whole life," said Jackson. "I don't care. I just want to play football. I haven't played in a game since December, so I'm looking forward to it. People can question my toughness and my size, but they can't question my heart. I'll get hit hard and I'll get up and keep going. That's what I do. I'm a football player. I welcome all that stuff."
For the next two days, Jackson will catch hundreds of passes and field hundreds of punts and run hundreds of routes. Then he can pause for 10 minutes and go at it, at a higher tempo, for the three weeks of camp to follow.
The skills are there. It is obvious that Jackson is an extremely talented young player who has a long way to go to get to the level he wants to reach in the NFL. He learned a lesson in his first practice, one of many to come.
"I'm not going to back down from anything," he said. "It's hard work. It's a business. I know all that. I am going to treat it that way and get through this thing and get better every day."
Donovan McNabb threw the ball very well and showed no ill-effects from his shoulder injury in the spring. I liked his accuracy and his touch. He had a good day, both in the morning and the afternoon.
Tight end Brent Celek made a pretty move in the afternoon when he used a double move and then a shove to get free and haul in a Kevin Kolb pass to the corner for a touchdown.
I like how cornerback Kyle Arrington moves, and he has good size. He is somebody to watch in the weeks to come.
Both Jackson and Quintin Demps returned punts.
Demps made the best defensive play of the day, stepping up and picking off an A.J. Feeley pass and showing some speed to get into the clear with the football in his hands.