Tony Hunt's got to get some credit. A few weeks after he was ingrained as the unlikely-to-cut-it fourth running back on the depth chart, he's been practically the talk of the town in Philadelphia.
Interesting for a guy locked into what head coach Andy Reid has described as a "wide-open" position battle, now at fullback. Despite all the ink that will inevitably be used on Hunt from Monday through Thursday, he might not be an Eagle come Friday.
But still, there's just something about Hunt, the workhorse Penn State back in a blue-collar town that has more than a passing interest in the Nittany Lions. There's something about a guy willing to shift to a less-glamorous position on a dime, taking a big chance to secure a small job he might not have otherwise.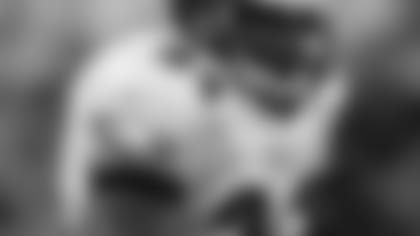 Jason Davis (above) and Jed Collins are battling with Tony Hunt for the fullback job
There's something about a guy whose job is now, flatly, to run people over. And Hunt should get his second shot to do so Thursday against the Jets.
"You got to be realistic. Since this is my first week at the position, practicing there, it'd be like looking at the team after a week of training camp," Hunt said. "You don't expect the team to be perfect at that point. But you expect them to be making an improvement towards where you want them to be."
The transition isn't as simple as it might seem, Hunt said. While thinking like a tailback could help him pick a block or hit a certain hole, he has to now remember to react faster, he said. He has to know what Brian Westbrook will be thinking. There needs to be chemistry. Like a catcher calling signals for his pitcher.
And there's no question about it – Hunt needs some work on his blocking, coaches have said. But that was to be expected. For the first time ever, he's opening holes, and not running through them. With that in mind, Hunt, who could provide more offensive versatility than a natural fullback, might get some leeway when the 53-man roster irons out.
"There are some situations that you get into where you may not be quite as good at that position for the first two, three, even six or eight ball games," offensive coordinator Marty Mornhinweg said, "but you may be better down the stretch."
But there's a battle still ongoing there. Both Jason Davis and Jed Collins have each started a game at fullback, and both managed to outlast Luke Lawton through first cuts. And both Davis and Collins should see reps on Thursday.
So with adequate competition behind him, don't expect Hunt to backpedal into Thursday.
"He has to continue to take a step forward. I need to see him be better than he was last week," Reid said. "I'm not going to say he was poor last week, but I want to see improvement. He is on his second week here, so there should be marked improvement there."
The battle will likely shake down to which player's strengths best fit the team. Davis is the only natural fullback, and a solid pass-catcher. Collins has impressed on special teams, and, as a former tight end, also has a nose for the ball. Hunt is the fastest of the three, has made progress on special teams and has the most polished offensive skills.
But, with all the talk about Hunt, it sure seems like his job to lose.
"He did a couple of things real well," Mornhinweg said. "Then, there was more than a couple where he splattered just a little bit, so the fundamental and technique work there will come into play. Excellent effort."
Coaches know what they've asked of Hunt isn't exactly a piece of cake. But they are giving him the knife to cut it.
And, even if only the small chunk in the corner, Hunt wants it.
"I'm going to do everything you ask me and go as hard as I possibly can," Hunt said. "But the fact is it's not going to be perfect right now. There are still things I'm going to have to work on. If it was that easy, it'd be an easy job. This would be an easy sport."