At defensive end, aside from Graham, the Eagles currently have Trent Cole, a perennial Pro-Bowl level player, reliable veteran Juqua Parker, workmanlike Darryl Tapp and youngsters Daniel Te'o-Nesheim and Ricky Sapp. But there's another player in the defensive end crop who was acquired earlier this offseason that could be considered a draft-pick type addition and may allow the Eagles to address other needs early on in the draft - Phillip Hunt.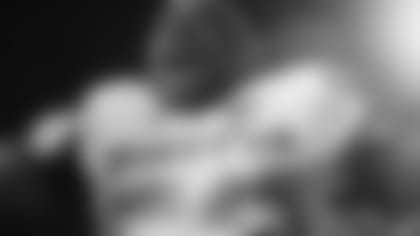 Will DE Phillip Hunt be a surprise in 2011?
You probably remember the Eagles signed Hunt in February after Hunt had two productive seasons in the Canadian Football League. In 2010, Hunt, 25, led the entire CFL when he notched 16 sacks for the Winnipeg Blue Bombers. Hunt's success in the CFL brings the obvious comparison to Cameron Wake, the prolific pass rusher for the Miami Dolphins who had 14.0 sacks in 2010 after a similarly productive CFL career. While expecting Hunt to achieve Wake's level of immediate success may be a stretch, the comparison, according to one metric, isn't too farfetched.
SackSEER is a predictive model created by Nathan Forster that aims to forecast NFL success of collegiate pass-rushers. According to Forster, the model "is composed of four metrics: the prospect's vertical leap, short shuttle time, per-game sack productivity in college (with certain adjustments), and missed games of NCAA eligibility. This particular blend of the prospect's athleticism, production, and the injury concerns and/or off-the-field issues, represented by the missed games metric, would have identified edge rushing superstars such as Mario Williams and Shawne Merriman and busts such as Robert Ayers and Jarvis Moss."
In looking at this year's crop of pass-rushing prospects, Forster couldn't help but notice Hunt, even though the new Eagle isn't a part of the draft class. At the University of Houston, Hunt was ultra productive, as he ended his career as the school's all-time leader with 34 sacks. Hunt was surprisingly undrafted, likely because of his slight 6-0, 248, frame. But there have been no shortage of successful under-sized pass rushers in the past. The pertinent numbers for Hunt relative to SackSEER, in addition to his 34 collegiate sacks, are his 41.5-inch vertical leap and 4.22-second shuttle, taken from his pro day two years ago (he was not invited to the combine).
"Hunt's career arc is eerily similar to breakout star Cameron Wake's," writes Forster. "Like Wake, Hunt sought refuge in the CFL. And again, like Wake, Hunt dominated. After a three-sack rookie season, Hunt recorded 16 sacks for the Winnipeg Blue Bombers. His reward was a contract with the Philadelphia Eagles, adding to a high-potential stable of young edge rushers including Brandon Graham and Daniel Te'o-Nesheim.
"When I was developing SackSEER, reader Alan Plotzker (who developed a similar database) and I questioned why a player with such an impressive blend of athleticism and production did not even merit a seventh-round pick. If anything, Hunt was a stronger prospect coming out of college than Wake. Although Wake had better workout numbers, Hunt had much better production and did not have Wake's injury history. So can lightning strike twice? It is unlikely that Hunt will match Wake's success, but if he somehow makes his way into the Eagles' starting lineup, watch out."
Perhaps, with the draft less than three weeks away, the Eagles have already found a pass rusher of the future.