The Philadelphia Eagles were very impressed with tackle Andre Dillard after getting a chance to see him up close and personal at the Senior Bowl back in January. So much so, the Eagles ranked him as one of the 10 best players in the entire 2019 NFL Draft. The Eagles, sitting at No. 25, never thought that they would have a chance to get the player who Howie Roseman called "the best tackle in the draft."
"Our senior director of college scouting, Anthony Patch, he lives pretty close to Washington State," vice president of player personnel Joe Douglas said. "He did a great job, and our area scout, Ryan Myers – those two guys did a phenomenal job of going in there and getting to know Andre. We got a chance to spend a lot of time with Andre in our Senior Bowl interview. He had a great week."
When Dillard began to slide, the Eagles aggressively made the move up for a player at a premium position, but not one that the team had to address. The Eagles return their entire starting offensive line in 2019 after inking future Hall of Fame left tackle Jason Peters, ascending guard Isaac Seumalo, and all-time Eagle Jason Kelce to new deals in the offseason. That didn't prevent the Eagles on Thursday night sending a first-round pick (No. 25 overall), a fourth-round pick (No. 127 overall), and a sixth-round pick (No. 197 overall) to Baltimore to move up three spots to No. 22 to secure Dillard.
"When he started to fall, we just saw an opportunity to get a top 10 player," Roseman said. "Again, when you have a top 10 player at an important position, it doesn't matter about the depth on our team. We're trying to load up on the lines."
It's not the first time Roseman has moved up in order for the Eagles to get their guy. In fact, this is the fourth such time since 2010 that the Eagles have leapfrogged teams in the draft and each previous instance was well worth it.
In 2010, the Eagles went from No. 24 overall all the way to No. 13 to get defensive end Brandon Graham, who owns arguably the biggest defensive play in franchise history with his strip-sack of Tom Brady in Super Bowl LII. In 2012, the Eagles jumped up three spots to get All-Pro defensive tackle Fletcher Cox, who has been to four consecutive Pro Bowls and is one of the elite players in the league at his position. Three years ago, Roseman pulled off not one, but two blockbuster trades to finagle his way from No. 13 to No. 2 to get franchise quarterback Carson Wentz, a Pro Bowl selection and MVP candidate in 2017.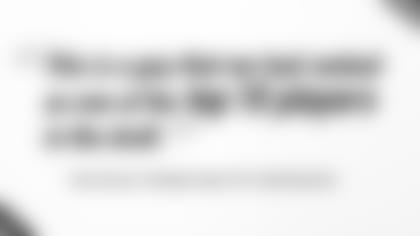 Roseman originally wanted to get ahead of the Baltimore Ravens. He was certain that the Houston Texans would take an offensive tackle at No. 23. Roseman is one of the best in the league at reading the tea leaves and his intuition was right against as the Texans chose Alabama State's Tytus Howard. The key for Roseman in making any trade was protecting the two second-round picks, which he accomplished.
By getting Dillard in the fold, the Eagles have the opportunity to continue a strong tradition at the left tackle position. The Eagles used the 11th overall selection back in 1998 on Tra Thomas, a three-time Pro Bowl selection who helped Philadelphia reach the Super Bowl in the 2004 campaign. Ten years ago, the Eagles made a trade almost identical to the one they executed Thursday night sending a first-round pick, a fourth-round pick, and a sixth-round pick to Buffalo to get Peters and make the smooth transition from one elite blindside protector to another. Dillard comes to Philadelphia with the chance to learn behind Peters and hone his craft under one of the best offensive line coaches in Jeff Stoutland.
"We have a Hall of Fame left tackle, and again, he's got a great opportunity to come in and learn from Jason and at some point in time get an opportunity to play," Roseman said.
On Thursday night, the Eagles secured a top 10 talent to develop as a cornerstone player opposite All-Pro tackle Lane Johnson for the future. And on Friday, the Eagles can still add impact with two of the first 25 picks on Day 2 of the draft.
Take a look at your newest Philadelphia Eagle, Washington State OT Andre Dillard!