It has been a while, but Brandon Graham has been here before.
In his 11 seasons with the Eagles, Graham has enjoyed six winning seasons (2010, '13-14, '17-19) and only one of those seasons ended with confetti falling upon his head and a joyous locker room clean-out day. However, that also means he has endured five losing ones.
So as much as the 2020 season has been a painful one for Graham and Eagles Everywhere, it has not shaken the former's confidence that the team can get back to its winning ways in 2021.
In 2016, the Eagles sped out of the gate to the tune of a 3-0 record, only to stumble to the finish line at 7-9. According to Graham, the Eagles found ways to lose that season.
But during the ensuing offseason, the team learned from those missteps and bounced back. The result was tying the franchise record for most regular-season wins and, of course, a Super Bowl title. That is not to say a second Vince Lombardi Trophy is on the horizon in 2021, but Graham told reporters Monday that the team will take a similar approach heading into this offseason.
"I'm hoping that coming back this offseason people use this feeling and use it as motivation so that next year, when we're in these moments, we know that we always got to take care of these little things as far as the penalties and the self-inflicting things and turn those things into positives for the next upcoming season because you know those are the things that beat us last year," he said.
The Eagles did beat themselves in a lot of ways in 2020, but another thing that derailed the 2020 season — and arguably the 2018 and 2019 seasons — was a slew of injuries. Injuries affected nearly every part of the roster, but the unit that was decimated the most — and the group Graham specifically mentioned Monday — was the offensive line.
Andre Dillard and Brandon Brooks didn't play a snap in 2020 while Lane Johnson, Jason Peters, Isaac Seumalo, Jack Driscoll, Jordan Mailata, and Nate Herbig all missed games due to injury.
The attrition forced the Eagles to shuffle the lineup on a near weekly basis and use the most starting offensive line combinations (14 in 16 games) in NFL history.
Because of the COVID-19 protocols that were put in place for the 2020 season, injured players were kept separate from the non-injured ones, which essentially meant out of sight, out of mind. Graham admitted that when injured players would rejoin the rest of the team, he would sometimes forget they were on the roster.
Even Graham himself didn't go through the entire 2020 season unscathed, as he was placed in the concussion protocol after suffering a head injury in the season opener against Washington. Fortunately, he did not miss any games.
"We definitely stayed in a lot of these games despite the injuries," Graham said. "I think Doug (Pederson) does a great job of motivating and keeping everybody on that 'next-man-up' mentality. 
"It's all a mentality. It's all about keeping yourself ready. Even though you might not be seeing the field now, Week 10 come, somebody gets hurt, now it's your opportunity," he added. "It's how you been handling the situation up to that point and hopefully people have, at that point, have been staying ready and staying eager for their opportunity."
"That's why I know next year is going to be even better because we had a lot of learning that we needed to do this year," Graham said.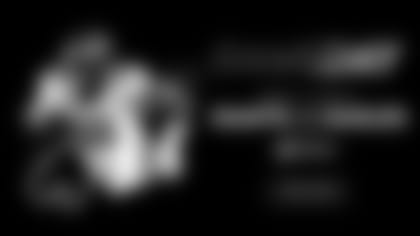 High motor
Brandon Graham is off to a red-hot start in 2020. The longest-tenured player on the defense remains an energetic, relentless force off the edge in his 11th season.