One of the positions that improved the most in 2014 was outside linebacker paced by second-team All-Pro Connor Barwin, who had a career-high 14.5 sacks. Strictly from a sack perspective, the outside linebackers combined for 26.5 sacks this past season after 16 a year ago. Some of that was due to the outstanding defensive line, but the comfort provided by being in the second year of coordinator Bill Davis' scheme helped as well.
Barwin was signed by the Eagles in 2013 to aid with the team's transition from a 4-3 to a 3-4 base look. Trent Cole and Brandon Graham made strides from 2013 to 2014 which allowed Barwin to attack the quarterback more. Barwin is in the prime of his career and doesn't turn 29 years old until mid-October.
Cole is a stalwart who continues to add to his career sack total and is strong against the run. Graham is scheduled to be an unrestricted free agent. He was productive as a pass rusher and on special teams this past season, but played fewer than 500 snaps. If the Eagles re-sign Graham, would they project a bigger role for him moving forward?
After those three, the Eagles have last year's first-round pick Marcus Smith II. The old adage in the NFL is that players make the biggest leap from the first year to the second. From an athletic and scheme standpoint, Smith projects to be a good fit for what the Eagles do on defense so all eyes will be on him when the team returns for the offseason conditioning program in April.
Bryan Braman, a free-agent addition in 2014, is a beast on special teams. Travis Long was in the hunt for a roster spot last preseason before succumbing to a torn ACL. He has been in the Eagles' program for two years and will make another push for a roster spot this season.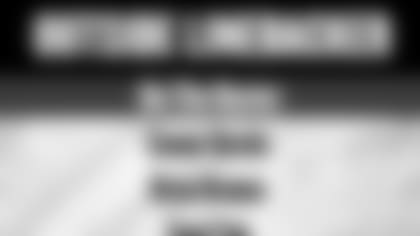 1. Justin Houston, Chiefs (Note: Reportedly received the franchise tag.)* **2.Jason Worilds, Steelers 3.Brandon Graham, Eagles 4.Brian Orakpo, Washington 5.Dwight Freeney, Chargers 6.Brooks Reed, Texans 7. Anthony Spencer, Cowboys
The Top Outside Linebacker Contracts From 2014 Free Agency
1. Julius Peppers, Packers (3 years, $7.5M guaranteed, $26M total)
2. LaMarr Woodley, Raiders (2 years, $4.35M guaranteed, $10.35M total)
3. Matt Shaughnessy, Cardinals (2 years, $2.2M guaranteed, $4.4M total)
4. Dekoda Watson, Jaguars (3 years, $1.5M guaranteed, $6.25M total)
5. Calvin Pace, Jets (2 years, $1M guaranteed, $4.75M total)
6. Keith Rivers, Bills (2 years, $1M guaranteed, $4.05M total)
7. Bryan Braman, Eagles (2 years, $1M guaranteed, $2.65M total)
8. Shaun Phillips, Titans (2 years, $750K guaranteed, $5M total)
9. Adam Hayward, Washington (3 years, $500K guaranteed, $3M total)
10. JoLonn Dunbar, Rams (2 years, $128K guaranteed, $2.005M total)
*
Contact data is according to Spotrac