Monday was reporting day for rookies and selected veterans at the NovaCare Complex and as one of the team's five quarterbacks, Nick Foles checked in to familiar turf.
Well, familiar in that he knows the NovaCare Complex and his teammates and the coaching staff and the organization. Not quite as familiar is the situation Foles is in now: In his second NFL season, Foles is in the thick of a full-fledged quarterback competition, one that has certainly captured the attention of every Eagles fan in every corner of the world.
Who is going to win the starting quarterback job? It's a question we've all heard and one we've all asked many, many times in recent months. The speculation moves to the field now as camp practices begin and what happens on the field dictates the order of the depth chart for Chip Kelly's offense.
Foles has no crystal ball, and he isn't going to be drawn into a debate and there is no way he's going to speculate on who the starter eventually will be. A young man who showed a tremendous amount of poise as a rookie in trying times hasn't changed much at all in that regard.
He says all the right things, does all the right things and is fully confident that his performance will speak volumes in the weeks to come.
Other than that, Foles is root, root, rooting for Michael Vick and Matt Barkley and Dennis Dixon and G.J. Kinne to succeed when given opportunities to play, and he knows they're in his corner, too.
"Whoever wins the job, whoever the coaches go with, will be a guy who the guys respect, the guys will play for and there will be no problem. I know that," said Foles. "They're going to play the guy who can win the games."
What's most important to Foles is that he works hard at his craft each day and that he presents his case to Kelly and the coaching staff as best he can. Thrust into a starting role for six games as a rookie in 2012, Foles had his share of ups and downs. He led a stirring comeback win in Tampa Bay after three tough losses as a starter. Foles' season ended in a down-to-the-wire loss to Washington after completing 32 of 48 passes for 345 yards. Alas, Foles also suffered a broken hand, ending his year a week early.
In the seven games played, Foles completed more than 60 percent of his passes five times, tossed 6 touchdowns against 5 interceptions and showed toughness, poise and leadership playing behind a battered offensive line on a team that eventually won only four games. Along the way, Foles established franchise records for passing yards, completions and attempts by a rookies.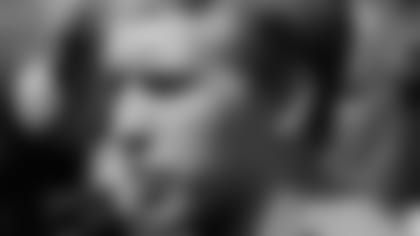 A year later, Foles knows he is a far different quarterback.
"I think I'm night and day. I think I've grown a lot throughout the last year," said Foles as he met a media throng on Monday. "I had great coaches last year to really tutor me as a rookie and great fellow quarterbacks to really help me along. You go into the offseason and I've continued to work hard and continued to excel, so just a year's worth of work I feel really good about where I am. I have to continue to push the envelope, keep working hard and keep getting better."
There is no favorite to win the job at this point. Head coach Chip Kelly has told his players and the media and anyone who has asked, I'm sure, that the best man on the field wins the job. So it's an even-strength situation heading into camp.
Foles isn't being drawn into any of the chatter. He's a grounded kid who spreads the credit and who accepts the blame. The offensive scheme, which he says is the "Philadelphia Eagles scheme" -- no labels are forthcoming from Foles -- is what we're all excited to see unfold, and Foles has had a spring to digest the X's and O's and terminology.
"I'm really excited to get out there and start playing," said Foles. "It's going to be really good to get into that routine. I'm going to go out there every day and prove myself and work hard. I'm going to approach it like I've done since I was a kid. I'm going to go out there and demand the best out of myself and push myself to get there, no matter what it is.
"I have all the confidence in the world in my ability, but I still respect the players around me and I know that they're capable of doing. At the end of the day, I'm not here to be a backup. I'm here to be the guy. I don't think we play this game to sit on the bench. We play it to play, and I'm here to play."
Amid the scrutiny is the ice-cool nature of Foles who reported in great physical and mental shape and who embraces the competition ahead. The Eagles haven't had a true quarterback competition for decades, not that it factors in here with a new regime and a new generation of players.
Foles spoke for about 12 minutes and his final answer came to the question that you and I and the Eagles fan next store has heard many times: Did any of the quarterbacks leave spring practices with a "lead" in the quarterback derby?
Showing the maturity we've very quickly come to recognize in Foles, he delivered the right answer.
"No. I feel like we're still competing and there's no lead," he said. "There's never a lead. That was the spring. That was the opportunity for the team to get better and I feel like I had a solid spring. I feel like there are a lot of things I need to correct throughout the spring. I looked at it as a work in progress.
"This camp is another opportunity to get better, to improve on the things I didn't think I did well in the last camp and to get even better at the things I think I did do well, so there is no lead."