1961 is the last time that the NFL Draft was held in Philadelphia. It's also when Gailmarie Wehmeyer became an Eagles Season Ticket Member.
Well, her father, Harry Mager, actually purchased two season tickets in the upper level at Franklin Field for him and his wife, Jane. However, Wehmeyer's mother did not enjoy the season opener (a 27-20 win over Cleveland, nonetheless). Mager took his daughter the following week and she has been going to Eagles home games ever since.
Wehmeyer, who was 12 at the time, vividly recalls Eagles home games with her dad. They would drive from their house in Norristown, Pennsylvania to Barren Hill where they would take the bus to the University of Penn's campus which houses the iconic stadium. She would sit between her dad, who was about 6-feet, 300 pounds, and another bigger gentlemen in the bleachers. Standing up to cheer was a problem. If she sat back down too fast, someone would accidentally land on her and squish her. If she waited too long to sit back down, she lost her spot. Finally, Wehmeyer's dad bought her a bleacher seat so everyone in the row knew they had to leave room for her.
"It was exciting. It was something to do with my dad," Wehmeyer said. "He wanted a boy and he had me instead. I knew how to play baseball before I could walk. If it wasn't nice outside, I'd be with him in front of the TV watching whatever sports were on."
Mager worked nights as a general foreman at the ITE Circuit Breaker Company. Eagles games were extra special for Wehmeyer because this was quality time with her father, who was a decorated Army veteran for his service in World War II which included the Battle of the Bulge.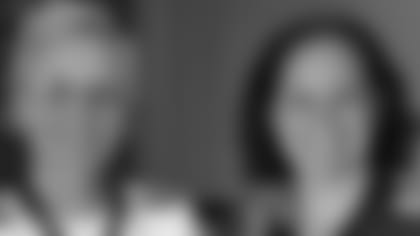 Gailmarie Wehmeyer (left) will be joined by her daughter, Laura, at the NFL Draft on Thursday night.
On Thursday, the NFL Draft returns to Philadelphia. Over 200,000 people are expected to visit the Ben Franklin Parkway for the three-day football extravaganza. Wehmeyer will be in attendance as the Eagles selected her to represent the team and enjoy VIP access which includes a lunch with NFL legends, walking the red carpet into the NFL Draft Theater, and handing Commissioner Roger Goodell the customized jersey that will be given to the Eagles' first-round pick. Wehmeyer will be thinking a lot about her dad, who passed away in 2004, and how much he loved the Eagles.
"He would be crying," she said of this once-in-a-lifetime opportunity. "Every day is a new day and life is too short not to take advantage of it."
Wehmeyer and her dad enjoyed those season tickets together until 1977. Mager officially transferred the tickets to her, so she could go to the games with her husband, Bud. Now, Wehmeyer uses Eagles games to bond with her own daughters, Kristie and Laura.
"I get to spend an entire day with one of my girls without husbands and kids," said Wehmeyer, whose tickets are in Section 228 at The Linc. "It is awesome."
Wehmeyer doesn't have a particular player in mind for the Eagles in the first round. She just has a simple message for all of the prospects who will become members of the team by the end of the weekend.
"Welcome to the greatest city, the greatest fans, and the biggest Eagles family," she said.