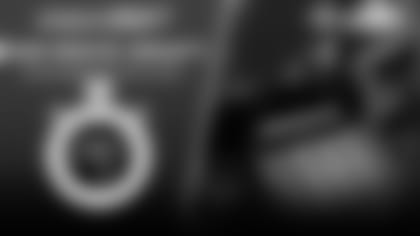 It's that time of the year.
The NFL Draft is less than three weeks away. As we're all anxiously waiting to see how it will unfold, we're going to give you - the fans - the opportunity to let us know how you think it will play out in our Fan Mock Draft.
Starting with the Tampa Bay Buccaneers at No. 1, we'll go through one team a day until we get to the Eagles' selection at No. 20.
The Buccaneers own the No. 1 overall pick after going 2-14 in Lovie Smith's first season as head coach of the team. Smith had coached the Chicago Bears to 10 or more wins in two of his final three seasons before being let go after a 10-6 campaign in 2012.
It starts with the quarterback.
Josh McCown was signed to be the starter last offseason after he resurrected his career with Chicago and new head coach Marc Trestman in 2013. After two tough losses to start the season against Carolina and St. Louis, the wheels came undone in a Week 3 Thursday night matchup against Atlanta. The Falcons pasted the Bucs 56-14. To make matters worse, McCown injured his throwing hand and missed the following week's game against Pittsburgh.
Mike Glennon started and led the Bucs to their first win of the season over the Steelers after the embarrassing loss to Atlanta. The problem is that Glennon did not win another start the rest of the season.
McCown guided the Bucs to their only other win of the season at Washington which was sandwiched between a five-game and six-game losing streaks, but finished with a 56.3 completion percentage throwing for 2,206 yards with 11 touchdowns and 14 interceptions. Glennon had a slightly better 10-to-6 touchdown-to-interception ratio while throwing for 1,417 yards.
The quarterbacks can't blame a lack of weapons with Vincent Jackson and last year's first-round pick Mike Evans at receiver and Austin Sefarian-Jenkins at tight end. Offensive line, however, does need to be addressed. Per Stats Inc., the Bucs ranked 30th in protection index which factors in sacks, quarterback hurries, knockdowns and offensive line penalties.
Defense has always been Smith's calling card and his Tampa 2 scheme could use some reinforcements. To the Bucs' credit, they've shed some bad contracts of the past by releasing Michael Johnson and trading safety Dashon Goldson to Washington.
Let's get to the draft. All signs point to the Buccaneers using the No. 1 pick on a quarterback. The question is whether it will be Marcus Mariota or Jameis Winston.
Winston played in an offense at Florida State that allowed him to display the types of throws that are more consistent with what's found in the NFL. However, Winston still threw an alarming 18 interceptions last season. That's on the field. Off the field, there are even more concerns ranging from shouting obscenities on campus in public to shoplifting to an alleged sexual assault.
Mariota played in a spread offense, but still made some of the throws that are more prevalent in the NFL. He can make full-field reads, something not all spread quarterbacks can do. He just didn't have to do it as often as Winston, so there's more of a projection. He'll also have to adjust to running a huddle and taking snaps from under center. But there's no question that he's a high-character individual who can be the face of a franchise. The Bucs also hired Dirk Koetter to be their offensive coordinator. He has experience with many different types of quarterbacks and even was once the offensive coordinator at Oregon.
Lovie Smith and general manager Jason Licht have some more time before they make their decision, but you are now on the clock in our Fan Mock Draft.