A week after notching his 100th win as a head coach, Andy Reid leads his Eagles into Seattle for a game against his friend and mentor, Mike Holmgren, the league's winningest active head coach.
This could be the final time these two close friends coach against one another, as Holmgren has already arranged to leave the Seahawks after this season. That said, this could be the most bittersweet of the five times the two will have coached against each other.
"I feel the same way I've always felt about going against him," Holmgren said during a conference call Wednesday. "You know you're going against somebody that's really good. When you play against somebody you know really well who is a good friend, you want to put your best foot forward."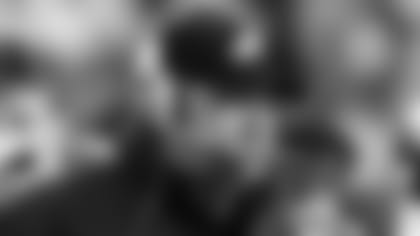 Head Coach Andy Reid
A once-dominant team in the NFC, Seattle is struggling with fi2:58 PM 10/30/2008ve losses in seven games. And the losses are starting to take a toll on the Seahawks head coach.
"I've reached a point where the losses are very, very difficult for me," said Holmgren, who owns 172 career wins including playoffs. "I can't bounce back quite as well as I did when I was a little bit younger."
That's one reason Holmgren has opted to take a sabbatical after this season, his 17th as an NFL head coach. Jim Mora Jr. has already been anointed as his successor.
"The timing was just right," Holmgren said. "I was going to step away; they knew who they wanted to hire to replace me."
Holmgren's final season in Seattle certainly hasn't gone quite the way he had hoped. It has been an "odd season" in terms of injuries, he said.
For one thing, he has been without franchise quarterback Matt Hasselbeck for the last three games and Hasselbeck will miss his fourth consecutive game because of a leg problem stemming from a bulging disk in his back.
The last three times Reid's Eagles have faced Holmgren's Seahawks, they did so without quarterback Donovan McNabb. This time, coincidentally, it is Holmgren's team that will be without the services of its starting quarterback and forced to go with backup Seneca Wallace.
The teams have split the last four meetings, with both of the Seahawks wins coming on the road at Lincoln Financial Field in 2005 and 2007. Those wins came with Mike McMahon, Koy Detmer and A.J. Feeley among those at the controls of the Eagles' offense.
"The last couple they were banged up a little bit, they didn't have their quarterback," Holmgren said. "Now we don't have ours."
McNabb last faced Seattle back on Sept. 23, 2001, when he completed 24 of 37 passes for 283 yards and two touchdowns. He also added a rushing touchdown.
"They are a powerful football team," Holmgren said. "Big offensive line. (Brian) Westbrook is a special player, Donovan McNabb's special. Very difficult to contain in the pocket. He can run. He is big and strong. The players around him feed of him.
"We have our hands full on Sunday."
But before this NFC clash begins, Reid and Holmgren will have a chance to catch up.
"I like to chat with him before the game and see him, but once the game starts it's pretty much a game just like any other," Holmgren said.