There will come a time when the likes of Emmanuel Acho and Derek Carrier and Eddie Whitley are going to have the crack in the door open with a roster spot on the other side. How they take advantage of that moment is anyone's guess. But it will arrive, just as it does with every player.
For now, they are taking reps just like all of the other Eagles. They are filling up the tape in each position coach's office and the coaches are looking critically at each on-field movement in the attempt to hammer down a depth chart heading into training camp in late July.
Who are these "unknown" players attempting to survive through September and into the regular season? Here is a look at a handful of players who hope to have something to say when the Eagles trim the roster, ultimately, from 90 players to 53 prior to the regular season ...
B.J. CUNNINGHAM, wide receiver
Big and strong, with good hands and now with an understanding of how the NFL works after spending last season on the practice squad with the Eagles, B.J. Cunningham is making his run -- er, catch -- at a roster spot.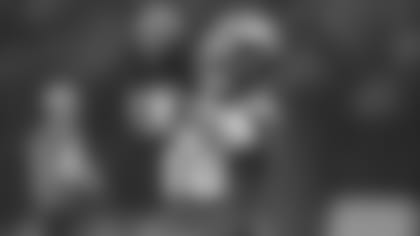 Does he have what it takes to make the roster at a very talented position? We will see what happens when the pads go on and Cunningham has to make every catch consistently. He's 6 feet 2 and he runs and jumps well enough to play in this league. Is Cunningham what Chip Kelly is looking for in a wide receiver, and can he beat out the likes of Jason Avant and Riley Cooper and Damaris Johnson at a position that is deep and competitive?
Cunningham had a brilliant career at Michigan State, leaving there as the school's all-time leader in receptions and receiving yards, while ranking second in touchdown catches. As we all know, the NFL is a different game. Cunningham is a better player now than he was a year ago. Is that enough to make him a member of this 53-man roster?
ALLEN BARBRE, offensive lineman
What? Who? Allen Barbre, that's who. He's played in 32 NFL games with seven starts, yet Barbre is one of the most anonymous offensive linemen here. Until Tuesday, that is. He took some reps with the first-team offense at left guard and when Kelly was asked about it at the post-practice press conference, Barbre's name became a bit more prominent.
But what about his game? Barbre was a fourth-round draft pick by Green Bay in 2007 and his seven starts came at left tackle. He's also played with Seattle and Miami and he loves the physical part of the game. And, apparently, he is versatile enough to get some looks at guard, which is important to know for the coaching staff.
There is going to be some excellent competition for spots along the offensive line in the summer. Add Barbre's name to the mix. The Eagles need some players who can play both tackle and guard and, as Kelly said on Tuesday, who are going to be physical.
You may not know much about Allen Barbre, and that's understandable. But he's going to make his roster push and, judging by the mini-attention directed his way on Tuesday, is already doing so.
MATTHEW TUCKER, running back
It's going to be really hard for Matthew Tucker to make this roster with the likes of LeSean McCoy, Bryce Brown, Felix Jones and Chris Polk playing the same position. That doesn't faze Tucker, who says he is learning every day from the talent around him.
"They're all great players and they know what they are doing," said Tucker, signed after the draft following a fine career at TCU. "I know that I get better every day just working with them."
Tucker is 6 feet 1 and 227 pounds and he says he is more like Polk in that he's more of a punisher than he is a dancer. The Eagles clearly like Tucker enough to keep him around and give him a lot of reps at practice.
"I think it's going pretty good," he said. "The hardest part is understanding everything about the offense and making sure I do my job and do it right. It's all football for me. I have so much to study. It's either working here (at the NovaCare Complex) or going back to the hotel and studying the playbook. I don't have much else going on."
Tucker hoped he would be drafted and the pre-draft predictions had him going in the sixth or seventh round. He was just happy to get the phone call from the Eagles.
"Didn't matter to me," he said. "The door is open. I'm here to do my best to get a job."
How many tight ends will the Eagles keep on the roster. Three? Four? More? Derek Carrier knows it's a numbers game, and that every practice rep is important.
Carrier spent last season on the Eagles' practice squad after the Raiders signed him following the 2012 draft and learned all about the tight end position. Carrier, you see, was a standout wide receiver at Division III Beloit College, where he had 15 100-yard receiving games in his career.
At 6-4, 241 pounds, Carrier has enough size. He's a tremendous athlete and he appears to run as well as any tight end on the roster. Can he block well enough to forge his way into the mix? Can he make the jump from Division III football to the NFL (Carrier was the first Beloit College player to make an active roster or a practice squad)?
With Brent Celek, James Casey, Zach Ertz and Clay Harbor here, is there room for Carrier?
EDDIE WHITLEY, cornerback
So close, and yet so far away. That was Eddie Whitley's story last season when he was part of the Cowboys' final roster cutdown after Dallas signed him as a non-drafted rookie. Whitley spent the final four weeks of the regular season on the Eagles' practice squad and then Philadelphia re-signed him and, well, here he is.
The Eagles are young at cornerback. Very young. And inexperienced. Whitley has good size and he is gaining with all of the reps he's getting in practice.
Cornerback is a position where the numbers could work in a longshot's favor. There isn't much set in stone at either corner, so who knows? Add Whitley to the list that includes rookie Brandon Poyer and young veterans Curtis Marsh and Brandon Hughes, all of whom are fighting for spots with projected starters -- from this perspective, anyway --  Cary Williams and Bradley Fletcher. 
EMMANUEL ACHO, linebacker
Acquired in a trade with Cleveland earlier in the offseason, Emmanuel Acho has a working knowledge of the defense Bil Davis is implementing. Now that he's healthy, Acho is out to win a job as a versatile linebacker and special teams player.
Acho knows the game and he knows the scheme. He's 240 pounds and extremely intelligent and ready to make a go of it after losing his rookie season to a knee injury.
Acho has to be an impact player in the preseason to make it. He has to show he is physical and tackle well and drop into coverage when needed. And, of course, he has to stand out on special teams.
The situation is fluid at linebacker. The Eagles are looking at a lot of names right now, and Acho has the scheme down, for the most part.
He, like the rest, has to take every advantage of his practice time on the field. When the pads go on, he has to stand out and overcome the numbers and stay around when the roster is whittled to the magic number of 53 in September.