The Eagles march into Week 4 as the only remaining undefeated team in the NFL. Former Eagles Head Coach Doug Pederson, who led the team to its first Super Bowl victory, will be on the opposing sideline come Sunday. I'll take you inside the locker room and around the NovaCare Complex as the Eagles get set for the Jacksonville Jaguars.
For the first time in team history, an Eagles player has received league honors each of the first three weeks of a season.
This was the first time Graham has received this honor. Following a 2.5 sack day on Sunday, the defensive end said this recognition only makes him hungrier.
Head Coach Nick Sirianni took the podium for his Friday morning press conference wearing a T-shirt that had a photo of Avonte Maddox's interception against Minnesota on it.
Introducing, "The Turnover T-shirt."
Sirianni said every week shirts are made for the defensive player(s) with a turnover. He joked that Slay only had one T-shirt made following the Vikings game, when he should've had two.
Who will earn a spot on next week's Turnover T-shirt?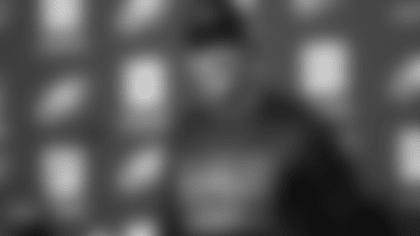 The Birds practiced at Lincoln Financial Field on Friday – a tradition Nick Sirianni enjoys prior to home games. It was 60 degrees with a chilly breeze as October rolls into Philly.
A NEW EAGLE HAS JOINED THE NEST
Wide receiver A.J. Brown was excused from practice on Wednesday and Thursday due to a personal reason. He returned to the practice field on Friday and later announced at his locker that he became a second-time father on September 29.
Brown already has a daughter (Jersee), and welcomed A.J. Brown Jr. to the fold on Thursday evening. He shared it's been an exhausting 48 hours and he will absolutely be ready to face the Jaguars on Sunday.
Rookie tight end Grant Calcaterra was active for the first time last Sunday against the Commanders. Making his NFL debut, he caught his first reception from Jalen Hurts for 40 yards.
He said he was just excited to help the team. "My coach told me before the game, 'just have fun,'" Calcaterra reflected. "So that's kind of what I tried to do – soak it all in, enjoy it."
For the second home game, the Eagles Autism Foundation will continue the 50/50 Raffle pins that kicked off on September 19. Eagles fans can receive a pin for every raffle ticket purchased with $25 or more. Each selling booth will have one of the four pins at its station.
Can you search the stadium and collect all four pins? Featured this weekend will be a 1933 pin commemorating the year the Eagles were founded, Eagles Autism Foundation, Jason Kelce, and Darius Slay pins. All proceeds from this initiative benefit the Eagles Autism Foundation and its mission to provide innovative research and care programs for the autism community.
PAYING HOMAGE TO THEIR ROOTS
Hispanic Heritage Month is celebrated from September 15 to October 15 to pay tribute to the generations of Hispanic Americans who have impacted our society. Sunday against the Jaguars will mark the Hispanic Heritage game at Lincoln Financial Field.
Several Eagles Cheerleaders on the 2022 squad are of Hispanic descent and detailed the influence their Hispanic roots have had on their life journeys.
The Eagles Cheerleaders will be performing a special routine on Sunday that encompasses the Hispanic flavor, culture, and traditions, dancing to a mix of Selena and Ricky Martin.
Many family members of the cheerleaders will be in attendance, including the parents of Gabriela, who grew up in a Puerto Rican household.
"I'm really excited to represent my culture and my community on such a huge stage, and in a city that's known for how diverse it is," Gabriela said. "I'm really proud of who I am and really proud to be that representation."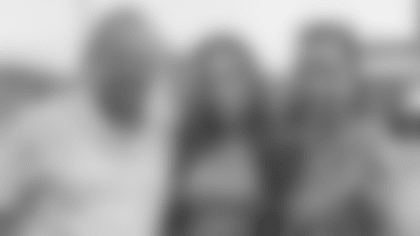 In Weeks 4 and 5 you will see more than 200 players, coaches, and executives participating in the International Helmet Decal Initiative. NFL fans are worldwide, and this is a great opportunity to represent countries that are special to players and coaches alike. Six Eagles players will be participating in the initiative: Arryn Siposs, Jordan Mailata, and Matt Leo (Australia); Britain Covey (Chile); Zach Pascal (Grenada); and Marlon Tuipulotu (Tonga). More than 50 nations will be represented across the NFL.
For Britain Covey, he will don the Chilean flag this week because of a mission he served there from 2016-18.
"The whole purpose is to think about everyone except for yourself," Covey reflected about his mission. "We spent a lot of time doing service, whether that was building houses or painting or yard work. Then we spent probably a greater amount of time talking with people about their lives and about Jesus Christ."
Covey returned to college and his football career following the mission in 2018. He said the experience matured him and has allowed him to connect with people from different backgrounds and cultures. He is also fluent in Spanish and said he's been helping quarterback Gardner Minshew, who's been learning the language.
As for Sunday's game, Covey said there are a lot of fans in Chile now.
"I have so many friends down there who are watching American football even though they don't quite understand the game," Covey said. "And I'm probably going to send my jersey to a couple of them, so I just wanted to find a way to represent a country that I love and spent some time in."