The Eagles secondary, as an overall unit, struggled mightily against Philip Rivers and the San Diego Chargers. Rivers finished the day completing 36-of-47 passes for 419 yards and three touchdowns, resulting in a 124.3 quarterback rating. Tight end Antonio Gates looked like his old self, hauling in a team-high eight catches for 124 yards, while Malcom Floyd made five catches for 102 yards in the first half prior to sustaining a neck injury and Eddie Royal scored three touchdowns on seven catches for 90 yards. The Chargers air attack could do whatever it wanted, and the Eagles defensive backfield had no answers.
Early on in the game, defensive coordinator Bill Davis attempted rotated rookie safety Earl Wolff in at Nate Allen's spot to try and slow down the San Diego offense. Wolff often played deep in pass coverage as the single-high safety, but was most effective down near the line of scrimmage. On multiple occasions he burst through a gap and corralled the ball carrier to bring him down with a solid form tackle. On one play in particular in the third quarter, with the Chargers beginning a drive at their own 20-yard line, running back Ryan Mathews received the handoff with a giant hole in front of him. Wolff read the play, ran forward and exploded around the edge to execute a lunging solo tackle on Mathews after just a 4-yard gain.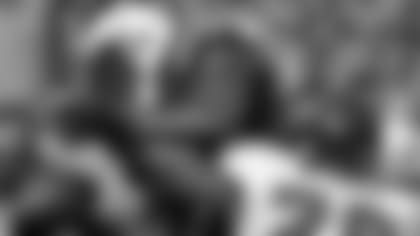 "I think I did OK," Wolff said. "I always feel like I can do better regardless of how I play because regardless of how you play you never have a perfect game. The thing is, I go into every game having to play perfect, so I always try to work on my corrections and what I need to do get better."
After seeing just eight snaps on defense against the Redskins, Wolff's role was expanded considerably against the Chargers, to the tune of 49 snaps. As head coach Chip Kelly preaches to his players, each snap is a chance for players to make an impact and prove to the coaches they deserve to stay on the field.
"Every rep is an opportunity," Wolff said."Regardless of how many reps I get, if it's 10, if it's 20, if it's five, I just want to go out there and take advantage of every single rep."
Wolff was by no means perfect against the Chargers, but he showed enough ability to suggest he will continue to be a big part of the defense moving forward. There is still a lot to improve, especially in coverage and field awareness.
"Seeing the whole field," Wolff responded when asked what he thinks he can work on. "Instead of zoning in just on my half, at this level you have to be able to see the whole entire field, and that's what I worked on (Monday in practice)."
"I feel like I tackled pretty well, but I still feel like that can get better. I feel like from a communication standpoint, sometimes I was good but I can also get better at that, and that comes with seeing the whole field. I still feel like I can do better overall."
In addition to Wolff's emergence, the secondary should get a boost with the return of cornerback Bradley Fletcher, who missed Sunday's game against the Chargers with a concussion. He was cleared to practice on Monday and said he felt back to normal. After being forced to watch from the sidelines, Fletcher is excited to get back on the field and help his teammates.
"Now that I've been cleared, I'm just happy to be able to get back on the field and get ready for Thursday," Fletcher said. "Once you put the pads on, it's all football. I think I'll be just fine getting back into it."