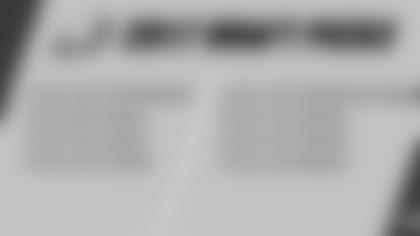 INDIANAPOLIS -- The Philadelphia Eagles own the 14th overall pick in the 2017 NFL Draft after winning a coin toss Friday at the NFL Scouting Combine.
"It's a great result," said Howie Roseman. "We're excited to be able to pick at 14. We're excited for the draft in Philly. We know how excited our fans are going to be when we make this 14th pick."
OK, technically, the Minnesota Vikings beat the Indianapolis Colts in the coin toss, but the Eagles receive the Vikings' first-round pick as a result of the Sam Bradford trade last September. The coin toss was used as a tiebreaker since the Vikings and Colts had the same record and strength of schedule.
The order for the NFL Draft, which takes place April 27-29 in Philadelphia, is now finalized. The Eagles have eight total picks with the Vikings' first-round selection, their own in each of the final six rounds, and an additional fourth-round draft choice from the Cleveland Browns as part of the 2016 deal to acquire quarterback Carson Wentz.
The pick from the Browns is a compensatory selection, which can be traded for the first time in 2017. In previous years, compensatory picks could not be dealt.