The Eagles announced on Sunday that they have downgraded defensive end Derek Barnett to out due to personal reasons.
The former first-round pick has played in eight of the team's first nine games this season, registering three tackles and one QB pressure on 99 defensive snaps.
The Eagles extensively used defensive end Josh Sweat (63 of 75 snaps) and linebacker Haason Reddick (60 snaps) in the win over the Cowboys in Week 9. Barnett was inactive for the first time this season in that game, while Brandon Graham and Nolan Smith provided pass rush off the bench. Graham's 1.5 sacks on consecutive plays in the fourth quarter – plus, his hustle play to force Cowboys quarterback Dak Prescott to step out of bounds on a two-point conversion – helped the Eagles escape with the win.
Philadelphia is traveling to Kansas City today in advance of Monday night's epic showdown.
Dallas Goedert is the only player on the active roster who will miss Monday night's game against the Chiefs due to injury. He suffered a forearm injury in the win over the Cowboys. The good news is at this time he is not going on Injured Reserve.
"We have high hopes that Dallas is going to be back. Again, I don't know when. I think that's unfair to Dallas," Head Coach Nick Sirianni said on Saturday. "Yeah, there is a reason he's not an IR yet."
Safety Justin Evans returned to practice this week in a limited capacity. He will remain on Injured Reserve for at least another week with the knee injury that he suffered against the Rams.
Tight end Grant Calcaterra (concussion), right guard Cam Jurgens (foot), and cornerback Bradley Roby (shoulder) were all full participants this week and are cleared for action on Monday. (UPDATE: The Eagles activated Jurgens off of Injured Reserve on Saturday ensuring his return for Monday night. He missed the previous five contests.)
In Kansas City, as the Chiefs are also coming off the bye week, the entire active roster practiced fully all week. There are no players with any game designations for Monday night.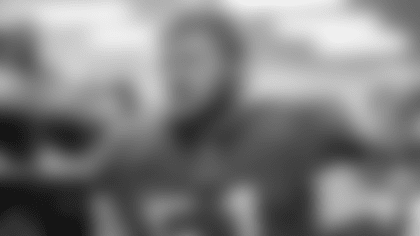 Good news for the Eagles is that the injury report is the exact same as it was on Thursday.
That means tight end Grant Calcaterra (concussion), right guard Cam Jurgens (foot), and cornerback Bradley Roby (shoulder) are all on track to play Monday night against Kansas City.
The Eagles would have to make a roster move to bring Jurgens back into the fold as he remains on Injured Reserve. Jurgens has missed the last five games after incurring the ailment in the Week 4 win over Washington.
"Cam was doing a fantastic job for us before he got hurt," Offensive Coordinator Brian Johnson said on Friday. "It's definitely nice to have him back in the fold."
Tight end Dallas Goedert is sidelined with a forearm injury, but the latest Eagles Unscripted (embedded below), presented by Lincoln Financial Group, provides an outstanding look into his rehab and recovery.
Safety Justin Evans, like Jurgens, is coming back from Injured Reserve. He was a limited participant with his knee injury. The Eagles would also have to make a move to add him to the active roster before Monday night's game.
In Kansas City, everyone on the active roster was a full participant for the second day in a row. The Chiefs, too, are coming off the bye week.
The Eagles are getting healthier as they get set for the second half of the season.
Tight end Dallas Goedert (forearm) did not practice today as he recovers from a fractured forearm that he suffered in a Week 9 win over the Cowboys.
With Goedert expected to be sidelined for the foreseeable future, it will be up to his fellow tight ends and the coaching staff to help replace the veteran's production.
"Anytime you lose a player of Dallas Goedert's capabilities, you have to compensate," said Eagles Head Coach Nick Sirianni. "It's never just one guy's responsibility to take all the brunt of that work. It will be by committee. We just don't have another guy like Dallas Goedert sitting around."
While the team does not have another Goedert sitting around, they have tight ends Jack Stoll, Grant Calcaterra, and Albert Okwuegbunam to step into his coveted role.
"As a group, we do a great job of doing everything collectively, so I have no doubt that we will come together and do whatever we need to do," Stoll said.
Playing without Godert is not anything new for this team. The Eagles averaged 31 points per game without the tight end, who missed five games with a shoulder injury last season.
"Jack and I were thrown in there and we tried not to miss a beat," Calcaterra said. "I feel like he and I did a great job of keeping the offense going. We ran the ball well and the passing game was great. Hopefully, we can continue to do that while he is out."
Calcaterra (concussion), who missed the last game while in the NFL's concussion protocol, was a full participant at practice.
Safety Justin Evans (knee) was a limited participant at today's practice. Evans, who has not played since Week 5, had his 21-day practice window opened, designating him from a return from the Injured Reserve list. If healthy, Evans is eligible to play on Monday night.
Guard Cam Jurgens (foot) practiced fully on Thursday. The second-year lineman has not played since injuring his foot in Week 4. Jurgens had his 21-day practice window opened before the Week 9 meeting with the Cowboys, but he did not play.
Cornerback Bradley Roby (shoulder) also practiced fully on Thursday. The veteran was injured in the team's Week 6 game against the Jets. He has not played since but was not placed on Injured Reserve.
"I am good. I am ready to go," Roby said. "I did not come here just to get hurt in two games. I feel like my destiny is more than that. I stayed focused and positive about the whole thing."
Quarterback Jalen Hurts, who has used a knee brace in recent games, used the bye week to rest and recover. Hurts was not wearing his knee brace at Thursday's practice.
"Time is a sign of progress," Hurts said. "The bye week came at a great time. Everything is trending forward."
Meanwhile, in Kansas City, everyone for the Chiefs practiced today. – Written by Owen Boyle