The NFL's annual Schedule Release has turned into an unspoken competition, allowing the content producers for each team to flex their creative muscle and unearth funny, witty, and unique ways to announce the games for the upcoming season. 2021 certainly did not disappoint with celebrity cameos, video game parodies, memes, silly PowerPoint presentations, fan tributes – an all-out blitz to add a little more shine as fans mark their calendars in anticipation of the biggest season ever with the first 17-game slate on the horizon.
Knowing that the Schedule Release draws attention from die-hard and casual fans alike, the creative process for the unveiling video can be a months-long endeavor. In late March, the Eagles embarked on a journey to showcase fans something that represented the City of Philadelphia's rich, artistic culture and provide value beyond Wednesday night's Schedule Release.
For several years, the Eagles have had a special Gameday Poster series to promote the upcoming matchup featuring talented artists from all over the Philadelphia region. The 2021 Schedule Release, presented by Hyundai, provided the runway to take that concept to another level. The Eagles drafted famed South Jersey artist Jimmy McMenamin from Glossblack, whose murals are featured all over the city, for this gigantic project – both literally and figuratively.
"Jimmy was at the top of my list," said Eagles Creative Director Sean Flanagan. "I knew Jimmy was a pro. I was aware of his work, but we hadn't worked with him. Sometimes it's the right artist at the right time for the right project. With the scale of this project, I knew it worked right in his wheelhouse."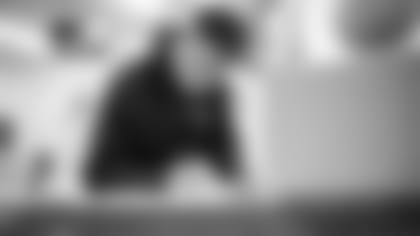 The Eagles envisioned an 8-foot by 16-foot painting that incorporated all 14 of the opposing teams leveraging McMenamin's flair when it comes to typography and modern street art through a bold, unconventional, and unabashed use of color. The Schedule Release video would feature each team individually with complementary graffiti font, created by McMenamin, to highlight the matchup. The challenge for McMenamin was to create a work of art that was cohesive despite mixing so many different types of colors and fonts. Each opposing team's mark had to have an individual story, but not clash from the work as a whole.
McMenamin grew up in Haddon Township, New Jersey in a family chock-full of Philadelphia natives. McMenamin vividly recalls his mother, Colleen, yelling and cheering while watching Eagles games growing up. McMenamin never intended to become a full-time artist. His grandmother, Gloria, was an artist, and he just enjoyed drawing and painting in his spare time. Instead, he studied marine science and landed a 9-5 in Center City, while doing art on the side in his spare time. The only problem? He was getting more and more calls to produce paintings and murals for brands while maintaining his full-time job.
2015 served as a tipping point for McMenamin, who started to generate more money from his art, so he decided to devote all of his attention to it. A year ago, he renovated an old motorcycle shop in Pitman, New Jersey, about two miles from his house, to serve as his studio.
"My obsession became my career," McMenamin said. "It never bores me. I'm always trying to be inspired to do something new."
After getting the green light from Eagles Chairman and CEO Jeffrey Lurie and President Don Smolenski, the Eagles pitched McMenamin on the concept on April 12. The following day, he returned a sketch that was roughly 90 percent of the final product.
"That's what makes Jimmy a rare breed," Flanagan said. "He nailed it on the first go. That's not often the case."
"I think he did a crazy good job of making it look artistically cohesive," said Nick Rotondi, the Eagles' senior video producer and lead director for the Schedule Release video. "It doesn't look like he just took a bunch of stuff and put it on a screen. It looks like he designed it in a way that works."
Once the rough draft was approved, McMenamin ordered four panels and spent nearly 20 hours over a four-day span to sketch out and paint the mural.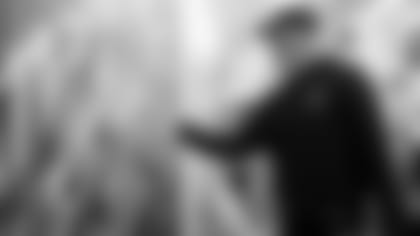 McMenamin used fifty different colors of spray paint to craft the mural. Some team marks were simple for him to design. For instance, he electrified the Chargers logo with a lightning bolt to add pizazz. There are even a few Easter eggs – check out the Jets' logo in particular – if you look closely, which is what the Eagles intended for all along. While it was great to make McMenamin's art the centerpiece of the Schedule Release video, there is a 128-square-foot painting that will be on display for fans to witness and take photos of all season long.
"It's a little hard to take pictures, post on social media, and do it justice because of all the detail in it," McMenamin said. "It would be awesome if people could see it in person at the stadium."
Upon completion, Rotondi, Feature Producer Joe Helder, and Photographer & Motion Graphics Designer Kiel Leggere went to the studio in Pitman on May 6 to take photos and film B-roll for the Schedule Release video. Helder did most of the shooting for the video portion, using an ARRI Amira with a Canon Cine Lens. Leggere captured behind-the-scenes photos and then utilized Adobe After Effects to animate motion graphics for the video transitions over the course of two days. The video was edited and finished in about 14 hours. Fortunately, the NFL provided teams with nearly 30 hours of advance notice, some years it's as little as four, to produce what debuted Wednesday evening at 7:45 PM.
"I think he nailed it," Leggere said of McMenamin's final piece. "It was everything that we were trying to do. He gave it this crazy, unique look that only he could provide. My expectations were high, and he exceeded them. I thought it was awesome. His work is phenomenal."