Sunday night's primetime meeting with the Panthers will pose a unique challenge for the Eagles. Sure, at 5-0, Carolina is arguably the best team Philadelphia has had to face so far this season, but it's less so substance and more so style that makes this an intriguing matchup.
The Panthers run the ball more often than any team in the league, averaging 32.8 carries per game. They've gone for over 100 yards in each of their five games this season, with bruiser Jonathan Stewart garnering the vast majority of the carries out the backfield and racking up 298 yards on 79 carries. But what makes their sixth-ranked offense special is the versatility of quarterback Cam Newton, who averages 45.0 yards per game on the ground to go along with 215.6 per game through the air.
The Eagles' defense, which ranks second in the NFL in yards allowed per carry (3.5) and has allowed just one rushing touchdown on the season, has yet to face a signal-caller with Newton's dual-threat capabilities this year. Through six games, Philadelphia has allowed pocket passers such as Matt Ryan, Ryan Fitzpatrick and Eli Manning to rush for 51 combined yards (8.5 yards per game), but Newton will be a different kind of challenge for defensive coordinator Bill Davis' squad.
When the two teams met last season, the former first overall pick was largely held in check. He was sacked a career-high nine times and rushed just two times for 6 yards, thanks in large part to the play of Connor Barwin. The veteran linebacker spent most of the day mirroring Newton as a spy along the line of scrimmage, daring him to throw the ball. Not only was he able to neutralize the dynamic quarterback's rushing ability, but he also was also able to make a handful of big plays in the backfield, sacking Newton 3.5 times.
Don't be surprised to see Barwin play a similar role Sunday night.
"One thing about Cam is you can spy him and run with him, but then can you tackle him?" said Davis of the 6-5, 245-pound quarterback. "Because he's so good. So Connor has got a good mix of size, speed and athleticism, and he's a good matchup. So we did spy him last year with Connor, and it was because of how big he is."
The Eagles' other starting rush linebacker, Brandon Graham, racked up 1.5 sacks against the Panthers last year. He is unlikely to play the role of spy the way Barwin will, but he too will have to alter his approach against Newton.
"You know he can run, and you've got to respect it," he said. "It kind of alters your rush a little bit, because you don't want him to get out and beat you with his legs. ... We just have to go in and play like we played last year – go in relentless, make sure our rush is cohesive and we're all attacking him and collapsing the pocket like we did last week."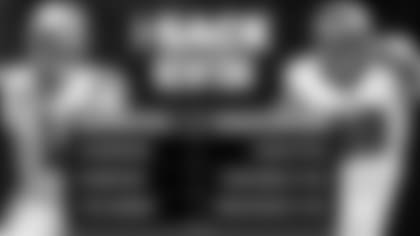 Against the Giants on Monday Night Football, the Eagles sacked Eli Manning three times, and the week prior against the Saints they notched five sacks. A big reason the team has had so much recent success getting to the quarterback has been the inspired play of its defensive line, Fletcher Cox in particular.
In the past two weeks, Cox has notched 4.0 sacks, earning an NFC Defensive Player of the Week award and national praise along the way. A former Mississippi State Bulldog, the fourth-year defensive end remembers playing against Newton not only last year, but also in college, when Mississippi State played Auburn.
"He's a big boy. It's going to take a few people to bring him down, because he's so tall and he's 250 pounds at quarterback," Cox said. "They're playing with a huge chip on their shoulder. We're coming off back-to-back wins and they're undefeated, so it's going to come down to who wants to win more."
In a 27-23 win in Seattle last week, Newton led the Panthers on a nine-play, 80-yard game-winning drive in the final minutes of regulation. He completed all six passes he threw on the drive, including a go-ahead touchdown strike to tight end Greg Olsen from 26 yards out with 36 seconds left on the clock.
"You're going to get about eight to 10 runs from him that you have to prepare for," Davis said. "But probably more impressively, is how he has kind of settled into the passing game. He's not making mistakes. He's taking what you give him, and he's moving the ball a little bit."
Slowing down Newton and the red-hot Panthers will arguably be the Eagles' greatest challenge this year, but having taken claim of the division lead for the first time this year after their victory over the Giants on Monday night, they know this is a must-win game.
"It's like the championship every week," said Graham. "And they're in our way."
*App users, click on "View In Browser" for the full experience.