The decision to leave school early is always a difficult one. The Eagles hope to make Gibson's pay off in the long run.
Wide receiver Brandon Gibson decided to return for his senior season at Washington State after he caught 67 passes for a school-record 1,180 yards and nine touchdowns in 2007. Productive in a big-time conference, good route runner, nice size - Gibson would have been a late first-day, early second-day draft pick.
But a new coaching staff coaxed Gibson into staying. Out was the West Coast system that Gibson thrived in and in was the spread offense that has taken college campuses across the country by storm. Gibson struggled with the offense and the Cougars were meek as they finished with a 2-11 record. Gibson led the team with 57 catches for 673 yards, but Washington State football was all but forgotten with the team's struggles.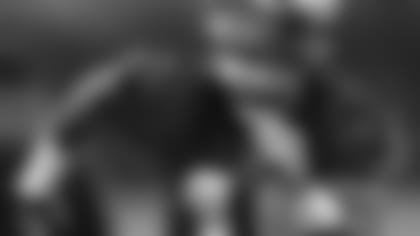 WR Brandon Gibson
"We had a bad season as a whole," said Gibson who finished his college career with a school-record 2,756 receiving yards. "I didn't play to the best of my ability. I wanted to take the success from my junior year and transfer it over to my senior year. It didn't happen. As the season went on, I was really frustrated with myself and the fact that we couldn't compete at a high level. I'm just trying to get back and work towards being the best player that I can be."
As tough as last season was, nothing could have prepared Gibson for the biggest loss of his life. Gibson's father, Steve, died in January.
"There was nothing I could do about it," Gibson said. "God felt that it was time for him to come up to Heaven. He's in a better place. There are some things that you have to move on with. He was my biggest fan. He never missed a game."
The pre-draft process should have been a time for Gibson to celebrate what he had accomplished while looking towards the future. But a hamstring injury suffered at the Senior Bowl practices kept him from running the 40-yard dash at the Scouting Combine and at Washington State's Pro Day. When he did run at a Seattle high school, Gibson didn't wow scouts with his 4.58 40.
The 6-foot, 210-pound Gibson was still available in the sixth round of the NFL Draft and the Eagles decided to grab him with the 194th overall selection.
"I thought he was one of the better route runners in this draft," head coach Andy Reid said. "I don't worry about the numbers there, I just kind of look and make sure that he can catch and he can run a route and he's a decent kid. I think if you look at him in the bowl games, one-on-one competitions, you can see that. When he was against good competition you saw that. I thought he was a very good football player."
Gibson doesn't have to worry about a lack of competition here. Gibson will have to knock off a veteran for a roster spot. The Eagles were already stacked at wide receiver with DeSean Jackson, Kevin Curtis, Jason Avant, Hank Baskett, Reggie Brown and first-round draft pick Jeremy Maclin before they added Gibson.
"With these guys, you have to be on your best here," Gibson said. "There are a lot of talented receivers here ... Everybody is trying to work hard. It's bred inside of you whether you are a competitor or not. On this team, everybody works hard and (wide receivers coach David) Culley demands that."
Before what Gibson endured this off-season, something like the numbers game at the receiver position might have fazed him. Not now.
"It's made me a stronger person," Gibson said.