Dealing Dion Lewis opens up the roster, though, and the Eagles could very well add a player for competition. Keep in mind, though, that the position is well stocked with both LeSean McCoy and Bryce Brown, and that there are some hopeful signs deeper on the depth chart.
OK, so this is getting fun. It certainly wasn't surprising that Lewis was dealt; reports circulated when the offseason conditioning program opened that Lewis wasn't taking part at the NovaCare Complex and that the Eagles were shopping the former sixth-round draft pick.
That the team was able to get something for Lewis, who they were likely to release from the roster anyway, is a plus. Emmanuel Acho has experience in both in the 4-3 and in the 3-4 and he will have a chance to compete at linebacker after spending last season on the Injured Reserve list in Cleveland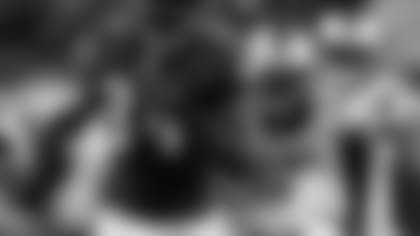 The situation at running back here is a good one and if Brown takes the steps forward the Eagles believe he will take, it's going to be a great situation. McCoy is perfectly suited for any offense, of course. McCoy is going to be a centerpiece of the offensive scheme, whatever that turns out to be, as head coach Chip Kelly looks to use his versatility and vision and cutback ability to find seams in defenses.
Brown was asked last season to basically run to the sidelines and read the defensive end and his instructions were to either hit the outside or cut it up inside and find some room to run behind an injury-ravaged offensive line. Brown, all things considered, acquitted himself nicely after missing much of his collegiate career.
A season later, Brown should be primed for big things pairing with McCoy in the backfield. No doubt it is a strength of this football team.
There is also second-year man Chris Polk to consider, and he's a real wild card here. Healed after a punishing career at Washington, Polk saw limited action on special teams in seven games as a rookie. He has had the entire offseason to gain some strength, heal any lingering bruises accrued from 799 carries and 878 total touches at Washington.
Polk is 222-pound running back and his style is not flashy. There isn't a lot of dancing in his game. Polk wants to run through defenders, not sidestep them.
How does that fit into what Kelly is looking for? We're going to find that out very soon.
And we're also going to learn a bit about the team's thinking at the position in general. It would be a stunner, from this perspective, if the Eagles used a high draft pick on a running back with McCoy and Brown already on board. If they are looking for training camp depth and competition, there are plenty of good backs found after the draft. So the idea of the Eagles even using a mid-round draft pick on a running back is a question mark.
Lewis was expendable because the Eagles have handled running back very well over the years. They made a great pick in the second round of 2009's draft to take McCoy, who has outperformed the other backs in that RB-heavy draft (Knowshon Moreno, Donald Brown, Beanie Wells, Shonn Greene, etc) and he's become a featured player in this offense. McCoy is one of the most prized offensive weapons in the league, so it must be exciting for Kelly and offensive coordinator Pat Shurmur to work McCoy's all-around game into the equation. Using a seventh-round draft pick last year on Brown proved worthy, too. Brown has a unique set of physical skills that should be even more evident this season now that his game rust has been knocked off.
Who's the No. 3 back? It's Polk at the moment, and that may be good enough. He's going to have competition, that's for sure. Where it comes from and who it is remains to be seen, but Polk will be pushed as Kelly looks for more depth across the board on his football team.
Dealing Lewis isn't a major deal. He wasn't going to be in the plans, anyway. Acho has a lot of work ahead to make this roster, so we'll see how he develops.
What to know most of all is that the Eagles are in a healthy spot at running back as Kelly and general manager Howie Roseman continue to wheel and deal and upgrade the roster through and through.