We're hours away from hearing " ... on the clock" and, honestly, it just can't arrive quickly enough. The Eagles have the fourth pick on Thursday night, as we know, and the speculation is that general manager Howie Roseman has offers on the table and along with head coach Chip Kelly will consider any and all scenarios to move the pick -- up, down, and all around. The Eagles have nine selections total, which gives them some good ammunition to significantly upgrade a roster that underperformed in 2012 when the team's record plummeted to 4-12.
Will the Eagles trade down? They'll consider their options. Roseman has worked the phones in the last week and has, no doubt, some offers on the table. The feeling here -- a guess, just like everyone else has -- is that the Eagles are in a prime position to move, and that they will absolutely consider doing so. At the same time, having the fourth pick puts the Eagles in a great spot to select a player who can come right in and have a chance to immediately help this football team and who in three years has a chance to be an outstanding, Pro Bowl-caliber player.
And while the first round is directly in the picture, let's not forget that the Eagles have nine draft picks, including four in the seventh round. I'm not suggesting that four seventh-round draft picks is as exciting as the fourth overall slot, but there is going to be quality to be had in the latter rounds and even after the draft. Roseman and his staff have done their homework. There are going to be good players on the board all the way through a draft that is said to be long on "foundation-type" players and not as much on "franchise-quality" talents.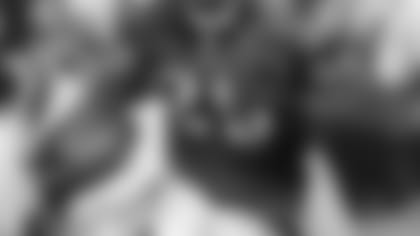 Should the Eagles stay at four, they would have a chance at the latter pedigree of player and then use the rest of the draft to supplement the roster with the former kind of player. The best of both worlds, if you will.
Anyway, only a select few know the plan, and that small group isn't saying a thing. I can guarantee you this, though: The Eagles aren't looking at this as a one-pick draft. They know they have a chance to build on a roster that underperformed during last season's 4-12 dud, and a strong effort her will go a long way toward establishing the Eagles once again as a playoff team.
So where might the Eagles go in the the draft? What are the needs? A better question, in light of last year's struggle and a free-agency period during which the Eagles aggressively added players, is where don't the Eagles have needs?
With that idea in mind, let's take a look at the roster, understanding that we don't know how Kelly graded his players after last week's minicamp in which the coaching staff had a chance to accelerate the evaluation process of the roster ...
Is the trio of Michael Vick, Nick Foles and Dennis Dixon -- with G.J. Kinne pushing -- enough to convince Kelly that he doesn't need a quarterback in this draft? Kelly was able to feed Vick and Foles a large spoonful of the offensive playbook last week and the coaching staff now has a working knowledge of each quarterback's mental capacity to digest the information and then spit it out on the practice field. Kelly had good things to say about his quarterback group after the first practice but, let's be honest, it was just one practice.
Judging by the "whispers" circulated by the media, the Eagles are not strongly considering West Virginia's Geno Smith at No. 4. That could all be smoke, but if the Eagles go in Smith's direction at four, they obviously would consider him the quarterback of the future and could then set off a series of moves -- maybe trading Foles, for example. If the Eagles don't take a quarterback first, they have to gauge if what is on the draft board is truly better than what they have.
Should the Eagles not take a quarterback in the first two days, it would seem to suggest that they liked a lot what Vick, Foles, Dixon and Kinne showed in the minicamp and throughout this offseason conditioning period.
Remember, too, that Vick has a one-year contract. There is a lot to prove at this position.
It's probably the Eagles' strongest position, at least on paper. LeSean McCoy should thrive in this offense with a strong offseason and an understanding of the scheme. Bryce Brown is working hard to improve on his promising rookie season and Chris Polk is healthy after his first NFL season was marred by a nasty turf toe injury.
Would the Eagles even consider using a high-, or even mid-round draft pick on a back who might not be anything more than a third-string player? Or is Kelly looking for something in particular that he doesn't see with the threesome he has now?
The Eagles are going to add running backs, because they are going to need more bodies in training camp. And good running backs are obviously around long after the seven-round draft is complete. This, on paper, does not appear to be a high-priority position, but you never know what Kelly is thinking. 
Again, this is a strong group as it looks now. DeSean Jackson and Jeremy Maclin are solid starters who have a chance to have big-time production in a wide-open offense, and Jason Avant is an outstanding slot receiver. Riley Cooper is an improving young receiver with size and Damaris Johnson offers quickness and matchup challenges in space. Adding young veteran Arrelious Benn and rookie Ifeanyi Momah in March make for an extremely intriguing group of wide receivers currently on the roster.
Toss in players like Greg Salas and second-year man B.J. Cunningham and others and the Eagles are in a good spot here. Is there a receiver in the draft who upgrades the offense?
The addition of James Casey and the way the Eagles have talked about him lends to the idea that he's going to be a major part of things. Along with Brent Celek and Clay Harbor, the Eagles have a good situation at tight end, because they also have the athletic ability of Evan Moore and a player who hopes to create a name for himself in Derek Carrier at the position. Second-year man Emil Igwenagu is not as athletic, but he can block and play as a "move" piece in the offense.
There are a lot of tight ends in this draft, so maybe the Eagles go in that direction at some point.
Good health gives this unit an entirely different look heading into the draft. The Eagles have four solid starters in Jason Peters, Evan Mathis, Jason Kelce and Todd Herremans. You never know with injuries, though, so the team must be sure to have quality depth on the roster. Danny Watkins, Dennis Kelly and Dallas Reynolds have some experience to help, and Watkins lined up as a starter at right guard in the minicamp. A leap forward from Watkins would really help the cause here.
Many think the Eagles could target one of the prime offensive tackles in the draft, perhaps with the fourth pick overall. If that happens, the Eagles would slide Herremans inside to guard and have an extremely promising situation up front.
The Eagles need more here, whether they're playing a four-man front or a three-man front. Fletcher Cox, Trent Cole and Isaac Sopoaga are the only penciled-in starters with others seen as promising talents. Where does Brandon Graham fit in? How about Antonio Dixon? Phillip Hunt? Vinny Curry, a second-round draft pick last April?
NFL teams don't pass on top talent along the defensive line, so maybe the Eagles are looking to tap into that market early in the draft. They need to get to the quarterback and they need to be more stout against the run than they were a year ago. Would it be a shocker to see the Eagles go D line in the first round? Not from this perspective, and certainly not if the Eagles feel very strongly that they can get a cornerstone player for defense very much in need of some.
DeMeco Ryans, Mychal Kendricks and Connor Barwin and then who else? How does coordinator Bill Davis feel about this group? Is this the year that Jamar Chaney finds a permanent spot? Can Casey Matthews make a move? Where does Emmanuel Acho fit in after the Eagles acquired him from Cleveland? Is Jason Phillips more than a special teams player?
If Dion Jordan, the outside linebacker who is said to be an athletic freak and a potential game-changer as a pass rusher, is on the board at four, do the Eagles pass? Or does Kelly quickly select Jordan and get his former Oregon Duck to make the move East?
Understanding the need for some stability, the Eagles signed four defensive backs in free agency -- cornerbacks Cary Williams and Bradley Fletcher along with safeties Patrick Chung and Kenny Phillips. Does that mean the Eagles are finished adding to the secondary? Don't think that to be the case at all.
In a pass-happy league, the Eagles need all the cover secondary players they can add. There is some good competition in the back end of the defense now, but no way can the Eagles pass on players they think can upgrade in the secondary.
There are some very good safeties in this draft, and it would not surprise at all to see the Eagles use a pick on that position. Cornerback? Sure, if the Eagles think they can add some depth and upside to a young group.
With nine picks, the Eagles could be on the prowl for some back four help for the defense all the way through this draft.
This is an area in which the Eagles seem fairly set. They love placekicker Alex Henery, one of the good young ones in this league. They signed punter Donnie Jones in free agency and re-signed longsnapper Jon Dorenbos prior to the start of free agency.
The return game needs to be better than it was last season, but there are some candidates on the roster -- Damaris Johnson, Brandon Boykin, DeSean Jackson, etc. -- who will be given looks to add some explosiveness there.
Don't rule out a few players taken in the draft or signed after who can return kicks and add to the competition, but it would be a surprise for the Eagles to bring in a specialist to help Dave Fipp's groups.