On paper, Sunday's wild card matchup at Minnesota is the Eagles' first playoff game on the road to the Super Bowl.
But head coach Andy Reid knows his team has been battling elimination for over a month. And last week's game with Dallas was a play-in game – the winner went on, the loser went home. Those experiences might help the Eagles when they kick off against the Vikings at 4:30 PM (EST) at the Hubert H. Humphrey Metrodome.
"Everything's a little bit faster in the playoffs and you have to make sure that you bring your A-game every week," Reid said, "or else you're not going to have a chance to continue on. There's not much that you have to say on that."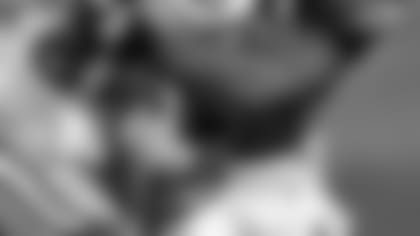 LB Akeem Jordan
To close out the season, the Eagles seem to have found the correct balance of veteran leadership and youthful tenacity, both vital qualities to sustaining an extended postseason run.
Changes have been made on both sides of the ball, especially on the defense. Reid said that making sure "the chemistry's right" might take quite a bit of time into the season – this year, the Eagles caught on just in time.
Akeem Jordan took over for Omar Gaither at weakside linebacker, adding a bit more speed to the position and helping the Eagles to neutralize opposing tight ends, which plagued them early on. Rookie Quintin Demps has been getting more time in defensive sets, and he's made some plays. Defensive coordinator Jim Johnson has had fun with Chris Clemons, who's made a monster impact in limited snaps, especially from the end/linebacker hybrid "Joker."
The late bloomers are several of the reasons Reid said he has the best defense he's ever had entering the postseason.
"There are some guys that have earned the right to be in there by their play when they were given opportunities," he said. "I've always tried to be straight with the guys on that."
Still, with as hot as the Eagles have been, they cannot afford relapses like the Dec. 21 debacle in Washington, a game they dropped 10-3 and a game that seemed to end their playoff hopes. With all the proper cards falling into place before the Dallas game, however, the Eagles earned a new lease on life.
At this point, it's up to them to get themselves ready and make sure they don't relinquish that opportunity.
"I think you have to prepare yourself the right way as you go through the week; make sure you concentrate and get the details down of the game plan and also of your opponent," Reid said. "There's a certain amount of film study that goes into it and practice time and concentration. You want to make sure that you have all of that covered."
INJURY NOTES ... Cornerback Asante Samuel (hip) and tackle Jon Runyan (knee) did not practice on Friday. Both are listed as questionable for Sunday's game ... Tight end L.J. Smith (shoulder) did not play last week, and saw limited practice reps this week. He also is questionable.