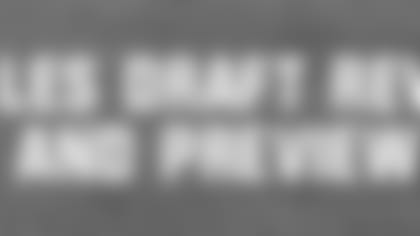 OVERVIEW**
Jamaal Jackson won the starting center job from Hank Fraley prior to the start of the 2006 season to complete one of the most amazing climbs up the depth chart. Jackson signed with the Eagles as a rookie free agent in 2003 and spent the season on the practice squad until he was promoted to the active roster for the postseason when Brian Westbrook was lost with a triceps injury. Coincidentally, it was a triceps injury that sidelined Jackson for the entire 2004 season.
In 2005, Jackson was once again promoted to the active roster when Fraley suffered a season-ending shoulder injury and started the final eight games of the season. Jackson carried that over into 2006 when he was signed to a seven-year contract extension at the start of training camp.
Since winning the job outright, Jackson has been lauded as an All-Pro by Sports Illustrated and the Eagles' most underrated player by CBS Sports.
REVIEWIn reality, the Eagles have not made a significant draft investment at the center position.
The starters during the Andy Reid era at center - Steve Everitt, Bubba Miller, Hank Fraley and Jamaal Jackson - were not acquired by any of Reid's draft picks.
The Eagles have chosen two centers in the seventh round of the draft - John Romero in 2000 and Dominic Furio in 2004 - and neither played in a single game. Scott Peters was drafted in the fourth round of the 2002 draft and he never made it to the field. Mike McGlynn can already be considered the best draft pick since he played in three games, but none at the center position.
PREVIEW
Jamaal Jackson has started 56 consecutive games, which is the fourth-longest streak among active centers. Will the Eagles challenge him this year? It's possible even if they do not add another player to the roster. Nick Cole started the final seven games of the 2008 season - four regular and three postseason - at right guard after Shawn Andrews and Max Jean-Gilles were lost for the season due to injuries. Cole played well enough that he was tendered a second-round level restricted free agent contract in the off-season by the Eagles. Playing under the one-year deal, Cole will try to find a spot in the lineup and if it's not at guard then it could be at center where he is second on the depth chart. Mike McGlynn, a rookie last season, may also push for a spot in the starting lineup either at guard or center.