With their eighth and final pick of the 2013 NFL Draft, the 239th overall selection, the Eagles selected 6-foot-5, 286-pound Oklahoma defensive tackle David King.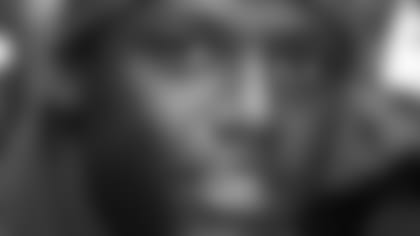 Here's the scouting report on King, courtesy of NFL.com.
OVERVIEW: When you're a 6-foot-5, 285-pound defensive lineman in today's game, NFL scouts might refer to you as a "tweener", or a player who doesn't quite have a position fit at the next level. But if there's enough talent in that prospect, he can turn that into a positive – becoming a valued swing player capable of starting outside to stop the run, moving inside in obvious passing situations to provide quickness, and even projecting as a five-technique in a three-man front. King is working hard to present himself in that manner.
Considered one of the top strong-side defensive end recruits in the nation as a Houston-area high school star, King was expected to make a big impact for the Sooners early on. But as a redshirt freshman in 2009, he played in just four games (one tackle) on a deep defensive line. After earning a starting job at end for the first three games of his sophomore year, he went back to the bench (11 tackles, one sack), eventually playing some tackle late in the season. King finally was a regular contributor in the rotation in 2011, playing in all 13 games as at least the first end off the sideline, even starting five, making 31 tackles, four for loss and two sacks.
STRENGTHS: Athletic, versatile lineman who has played inside and outside for the Sooners. Holds the edge well in the run game, knows his responsibilities outside, potentially giving him a chance at strong-side end. Can two-gap effectively, has upper-body strength to violently punch to get off blocks in either direction. Flashes some initial quickness off the snap, uses his length to pressure outside shoulders of tackles. Most effective as a pass rusher inside, using his length and quickness to at least challenge college guards. Keeps his eye on the quarterback during his rush, will get his hands up in passing lanes. Occasionally shows the hustle down the line to wrap up ballcarriers from behind when unblocked.
WEAKNESSES: Might be seen as an outside-inside tweener at the next level. Has not made many plays during his career, mostly because his overall hustle and closing speed outside the box are average. Also inconsistent getting off blocks when really needing to make a play, whether lining up at tackle or end. Can be moved in the upper body when playing inside, gets his shoulders turned. Not an explosive pass rusher when outside, relies on strength and doesn't get the corner regularly against better tackles. Runs tall, might lack the ability to change directions on containment responsibilities and to break down against quicker NFL running backs.
NFL COMPARISON: Christian Ballard
BOTTOM LINE: King has always had talent, but until his junior season, he found it difficult to first get on the field, and then to keep a starting job. His flashes in 2011 (31 tackles, four for loss, two sacks) as a versatile end/tackle swing player, however, made it very possible that 2012 is the year where he breaks out for Oklahoma – and asserts himself as a potential NFL player capable of lining up for 3-4 or 4-3 teams.