It was a humbling feeling to see 30,000 fans show up on Sunday to watch the Eagles practice at Lincoln Financial Field. The fans clearly were excited to see Chip Kelly's team on the day the pads went on for the first time.
Thirty-thousand fans on a shore weekend came out to watch practice. Think about that for a moment, and think about what it represents.
"For me, to be honest with you, walking around today, the number of jerseys, the number of Eagles shirts, Eagles hats, it was everywhere. It just felt like they were excited, they were excited to see their team come out ," said team president Don Smolenski. "Watching them all come out and high fiving the kids, watching Chip come out, with the big roar, I thought it all went well.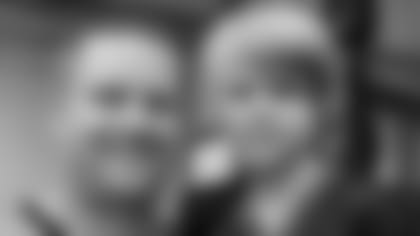 "We're fortunate that we have such great fans that support us that way."
Thousands of fans jammed Headhouse Plaza starting at 10:30 to get some autographs from the alumni players, and then the fans worked their way into the bowl of the stadium and breathed in Eagles football for the first time in 2013.
The alumni were introduced and greeted by the current team, and players like Pete Retzlaff and Bill Bergey and stars from the long-ago past were cheered and welcomed by some of the more recent retired stars like Donovan McNabb, Brian Westbrook and, of course, Brian Dawkins. All received huge ovations. All appreciated the opportunity to see their former teammates, to feel the love from the fans and to check out the 2013 team.
"I thought it was great," said McNabb, who officially retires as an Eagle in a press conference on Monday. "Great to see the guys and to be here again and see the fans. I loved it. It was really exciting."
The fans were the story, though, more than what happened on the field. The Eagles wore pads, but didn't tackle, and the depth chart continues to vibrate with competition, so Sunday was a chance for the fans to weigh in on the proceedings.
"It's just great that Eagles football is back," said Mike McIntrye of Philadelphia. "I love Chip and what he's doing. This is a new era, and this is something we can build on. I expect this team to be a lot better than what we saw last season."
Said James Cunningham of Wilmington, DE: "All of these fans out here for practice speaks to the passion the fans have for the Eagles. We're hungry. I know I couldn't wait to get this started, so here I am. I'm having a great time. I love seeing all of the older players as well as the new team."
Sunday was the first of five public practices held at Lincoln Financial Field (the next is on Monday, Aug. 5) and each opportunity to see the Eagles grow and build and develop the roster is going to be warmly received.
Even the alumni players were curious to see Kelly and the way he runs things.
"They play this loud music for every practice? The whole time?" said Tommy McDonald, a member of the Pro Football Hall of Fame. "I think I would dance the whole time. It certainly gets you ready for playing in front of a big crowd, with all of that noise!"
"I like the tempo and the way each drill moves," said Westbrook. "You definitely need to be in shape to make it through these practices. I think this team is going to be a lot of fun this season."
It's hard to turn away from what's going on with this team right now. Kelly is only two Fridays away from his first preseason game, and how he gets this team ready for the Patriots is his focus. Kelly hasn't yet ordered a "live" period, although it wouldn't be surprising to see one in the coming day or two.
Adding the Alumni to the mix on Sunday was a great touch -- a lasting memory is walking out of a Suite where McNabb, Westbrook, Dawkins, Ike Reese and Garry Cobb were talking Eagles football memories -- and one clearly embraced by the fans.
Sunday, then, was a time for the fans to join forces again with the Eagles of yesterday and of 2013 to sort of kick off the season. The love affair is stronger than ever as the thundering applause from a 30,000-strong practice crowd reverberated throughout Lincoln Financial Field.