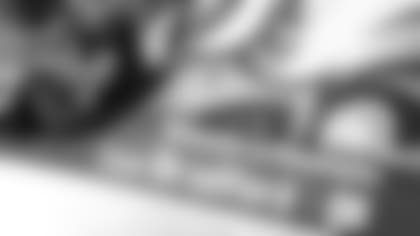 The Philadelphia Eagles have agreed to terms on a trade that will send quarterback Nick Foles, a fourth-round draft pick in 2015 and a second-round pick in 2016 to the St. Louis Rams in exchange for quarterback Sam Bradford and the Rams' fifth-round pick in 2015.
The first overall selection by the St. Louis Rams in the 2010 NFL Draft, Bradford (6-4, 224) has started 49 career games, throwing for 11,065 yards on 58.6 percent passing with 59 touchdowns and 38 interceptions over his five-year career.
Bradford, 27, was named the 2010 NFL Offensive Rookie of the Year by the Associated Press after setting rookie records in completions (354) and attempts (590), while ranking second in league history among rookies in passing yards (3,512). Under the tutelage of former Rams offensive coordinator and current Eagles offensive coordinator Pat Shurmur, Bradford led the Rams to a six-win improvement in his first season in the league and became just the fourth rookie quarterback in NFL history to take all of his team's snaps over a 16-game season. During a midseason stretch, he set an NFL rookie record with 174 consecutive attempts without an interception.
After sustaining an ACL tear in August of 2014, Bradford was placed on Injured Reserve and missed the entirety of the 2014 season.
A native of Oklahoma City, OK, Bradford started seven games for the Rams in 2013, completing 60.7 percent of his passes for 1,687 yards and 14 touchdowns to just four interceptions before suffering a season-ending knee injury in Week 7 at Car. (10/12/13). He set career highs in passing yards (3,702), touchdown passes (21) and passer rating (82.5) during the 2012 season.
As a sophomore at the University of Oklahoma, Bradford became just the second underclassman in NCAA history to receive the Heisman Trophy as he led the Sooners to the 2009 BCS National Title Game. During his collegiate career, Bradford started 31 games, completing 67.6 percent of his passes for 8,403 yards and 88 touchdowns.
A third-round draft choice of the Eagles in 2012, Foles started 24 games during his three-year career, posting 6,753 yards and 46 touchdowns on 61.6 percent passing. Foles earned Pro Bowl honors following the 2013 season after leading the league with a 119.2 quarterback rating, the third-best mark in NFL history, on the back of 27 touchdowns and two interceptions.
A native of Austin, TX, Foles appeared in eight games for the Eagles in 2014, completing 59.8 percent of his passes for 2,163 yards before suffering a season-ending collarbone injury in Week 9.