As we get closer and closer to the NFL Draft, a never-ending series of lists get posted by every football content provider under the sun ranking the top players at every position. Top 5 lists, mock drafts and big boards are all the rage this time of year. In this space, however, I want to look at these prospects a little differently.
So as April 30 approaches, let's take a look at these players from the mindset of how NFL franchises and scouting departments look at them and that's by figuring out how they fit on a football team, rather than just list the "Top 5 linebackers" or the "Top 10 wide receivers."
Think about the offensive line. You wouldn't just want to know about the top linemen in the draft. You'd want a list of the top tackles, the top guards and the top centers. All three positions typically have different measurables and responsibilities, so they should be categorized that way, right? And then the standards at each position change from team to team, as every franchise has certain needs and specifications for what they look for as they build their roster. Some teams prefer size and strength, others place value on athleticism and others just want tough guys at certain positions. So let's dig deeper, and look at some of the top players may fit once they find homes in the NFL ...
---
Widely regarded as one of the deepest positions in this year's NFL Draft, the running back Class of 2015 is loaded with talented players possessing a plethora of skill sets. Runners come in different shapes, sizes and speeds, but do they all fit in every scheme? What makes one back a great fit in one system, but not in another?
Ultimately, most running plays can fall into one of two varieties: gap scheme or zone scheme. Every team runs plays from both schemes, but for the most part every offense "majors" in one or the other.
Keep in mind, there are always going to be some backs who are scheme-diverse and can be effective feature backs in just about any offense. These "all-purpose" backs aren't all that common, but they can be found in most draft classes. Other backs may not be "feature" backs per se, but they may be scheme diverse in that they are situational running backs, sometimes tabbed as "third-down" or "scat" backs.
I talked with former NFL scout Dan Hatman about all of these types of rushers. Now the chairman of scouting development at the Scouting Academy, Hatman has evaluated talent for three different NFL franchises (including the Eagles). He was incredibly helpful in explaining in detail the different traits teams look for when evaluating running backs for different teams.
It should go without saying that there are a lot of traits that, regardless of scheme, are integral to being an effective NFL running back. Some like contact balance, vision, wiggle and play speed are all very important traits and ones that most of the successful running backs in the league have in their bag of tricks. Body type is another misconception as well, as backs of all sizes can have success (or a lack thereof) in a gap scheme or in a zone scheme, so don't focus necessarily on height and weight.
The purpose of this piece is to find some of the areas where you can help separate what may make a running back a better fit for your favorite team. To kick things off, let's start with gap-scheme backs, and what types of traits you'd like to see from them in college.
When I write about "Gap-Scheme" runs, what I'm referring to are plays such as "Power" or "Counter." These types of runs make it easy for the ball carrier in that there isn't much "reading" involved. Take Power, for instance (Chris Brown of Grantland did a great job of breaking down the intricacies of the Power run here). The entire play is predicated on creating a lane for the back through (typically) the B gap or the C gap. The ball carrier follows a pulling guard into the lane, reads his block and is picking up as much yardage as possible.
So what are the traits you're looking for in running backs if your offense employs these kinds of plays? Hatman said that you want to find a back who is "a willing interior runner, so there's a level of competitive toughness that's required in this type of scheme." He added, "you're also looking a lot more at athletic ability, because these runners need to be able to get to and through that hole before they close."
In the piece I did on quarterbacks, I noted how much tighter passing windows are in college than they are in the NFL. The same goes for running windows. Defenders are bigger and longer, move at a higher speed and they play faster because they're more instinctive. All of those factors help shrink those rush lanes until they're next to nothing. NFL Films senior producer Greg Cosell likes to say he looks for backs who can "get skinny" in the hole, because those windows are so narrow, you have got to be able to find small cracks in the armor to sneak through and burst through the other side. To sum it up, Hatman said the three main traits to look for are: athleticism, competitive toughness and then that burst to get through the hole.
So who fits the bill in this draft class? You start right at the top with Todd Gurley. At 6-1, 222 pounds, Gurley is one of the bigger backs in the class, but he's got the athleticism to match. A national standout running hurdles, Gurley reportedly can run the 40-yard dash in the 4.40 range, displays violence through contact and offers third-down value as a receiver and as a blocker. He routinely refuses to go down on first contact, and is very tough to bring down in the open field. Gurley is one of the few players who may be truly "scheme diverse," but when you factor in his athleticism, competitive toughness and his short-area burst as he shoots through the hole, he could be lethal in a gap scheme. Matt Waldman of Footballguys.com pointed out a great gap-scheme run where Gurley's burst and athleticism are put on display.
After Gurley, the running back that is most talked about in media circles as the top rusher in the draft is Melvin Gordon. At 6-0, 215 pounds, the trait that sets Gordon apart from most rushers in the class is his explosive ability in a short area. The Heisman finalist's burst is CJ2K-like, as he can get from 0-to-60 in a hurry and broke off a number of huge runs as a junior in 2014. Here's a shot of Gordon taking it to the house on a power run against Auburn in January (courtesy of ESPN).
Now, the question needs to be asked. Will he be able to go untouched for 50-plus yards routinely at the next level? Probably not. But Gordon's burst and willingness to work between the tackles should serve him well in a scheme where the running lanes are defined and he can just get downhill to find daylight.
Jay Ajayi of Boise State has drawn some comparisons to Seattle's Marshawn Lynch because of his running style. While the former Bronco may not be a first-round pick like Beastmode was coming out of Cal, he certainly is one of the top backs in the class and has "feature back" written all over him. Incredibly physical downhill, some have expressed concern about Ajayi's ability to let his blocks develop, so in a gap scheme he may be a better fit. It's worth noting as well that Ajayi is one of the best receivers out of the backfield in this class, as he consistently displayed the ability to run crisp routes and adjust to poorly thrown passes to reel in the reception.
Two late-round gap scheme runners to keep a close eye on hail from the sunshine state. Florida's Matt Jones and Florida State's Karlos Williams are both very physical downhill backs. Both are 230-plus pounds and are at their best when they're going north-south with the ability to run through defenders.
Zone-Scheme Running Backs
I took a closer look at some aspects of the zone run game a few weeks back after the signings of DeMarco Murray and Ryan Mathews. In that piece, I highlighted some traits you're looking for in those types of runners: patience, decisiveness and one-cut ability being among them. Hatman expanded on that, first explaining that the general difference between zone and gap runs start with the read from the running back.
"Zone runs are predicated on reads and the running back not having a predetermined lane, but having (multiple) options that the defense will end up dictating," Hatman explained.
I showed you an example of exactly that in the Mathews-Murray article.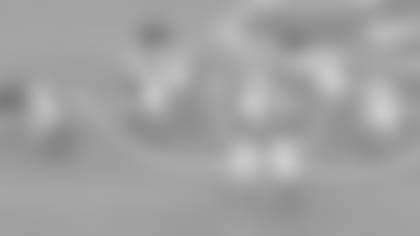 So right off the bat, you see the difference in zone and gap schemes. Where the gap scheme has a predetermined entry point for the running back to shoot through, and it requires a burst to get through that gap no matter what, the zone scheme has multiple options. What does that mean from a skill set standpoint?
"This scheme is very much dependant on your mental processing skills, which is why the Arian Fosters and Alfred Morris of the world who, while being good enough athletes to perform in the NFL, are not classified with your elite caliber athletes have success," Hatman said.
This is where that patience and decisiveness come into play, the ability to "see the forest through the trees" and read your blocks well are all important traits that won't necessarily show up on the field at the Scouting Combine, but are integral to a zone runner's ultimate success. Who could potentially wreak havoc in a zone scheme at the NFL level? Well, Gurley, for starters has the one-cut ability to cause a lot of damage in that scheme. Some people see Gordon in that vein as well. There are others though that displayed a really good feel for the zone run game in college or displayed the patience and decisiveness teams look for in that type of system.
Let's lead off with Alabama's T.J. Yeldon, one of the more forgotten backs in this draft class that's loaded with talent. A three-year key contributor to the Crimson Tide's backfield, Yeldon didn't shine among the backs at the Combine (actually, he was average to below average in almost every test in Indianapolis), but he consistently displayed the patience and full-field vision to succeed in that type of scheme.
You can see those traits on display on this touchdown run against Georgia (courtesy of XOS Sports), where he put his foot in the ground and went downhill on a stretch run play down in the red zone. Sure, Alabama mixed in a lot of gap schemes with Yeldon, but he showed great potential in a zone scheme early and often in his career in Tuscaloosa.
A former sprinter, Tevin Coleman possesses the breakaway speed that even the best defenses in the Big Ten Conference had issues with. Sure, he's not the greatest athlete in the world (the same was said of Murray coming out of Oklahoma), but Coleman reads his blocks well, is a very competitive runner and when he sees it, he hits it downhill. Some see Coleman as being a fit for gap schemes as well because of that straight-line burst, so he could also be viewed as one of those rare "all-purpose" runners as well.
David Cobb is often on the outside looking in when discussions take place about the best running backs in the class, but he has traits that project to starting NFL tailbacks, and his skill set translates well to both gap and zone runs. However, it's his patience, vision and lateral agility make him especially enticing to the latter, and you saw some of those traits down at the Senior Bowl.
Sure, this is just a simple draw play and not necessarily an inside or outside zone run, but you can see the options at Cobb's disposal, as he finds a lane to the back side and gashes the defense for a big gain. There wasn't much wasted movement as Cobb decisively picked his entry point and picked up positive yardage.
Nebraska's Ameer Abdullah put himself through college by making defenses pay in the zone run game throughout his extremely productive career with the Cornhuskers. On the smaller side at just under 5-9, 205 pounds, Abdullah is one of the most athletic runners in the class, is a great receiver out of the backfield and has kick and punt return value to boot. Greg Cosell brought up a great point in our Film Room segment breaking down the running back class that just because a running back is small, it doesn't mean he can't thrive in a zone scheme. Look no further than the Baltimore Ravens' Justin Forsett. Forsett feasted on opposing defenses in Gary Kubiak's zone run scheme a year ago in Baltimore at 5-8, 197 pounds after seven years of relevant mediocrity. Abdullah can be a feature runner in the league, and he proved it for four years at Nebraska.
Abdullah beautifully read his blocks on this play, plowing into the end zone to cap off a masterful day against the Miami Hurricanes last fall (courtesy of the ACC Digital Network).
South Carolina's Mike Davis is viewed by many as a tough runner who is able to move piles and is able to shoot through small cracks in the defense for positive runs. An angry runner who routinely could be seen stiff-arming opponents during his time with the Gamecocks, Davis has the short-area burst to separate from defenders in a phone booth, but it's his vision inside that makes him such an attractive option for zone teams.
Mississippi State's Josh Robinson is another back who flies under the radar a bit, but quietly was one of the more fun running backs to watch in 2014. Reminiscent of a Maurice Jones-Drew or, more recently, Branden Oliver of the San Diego Chargers, Robinson is built low to the ground at 5-7, 217 pounds,  he lived up to his nickname of "Bowling Ball" as a junior this fall. Robinson's patient running style and decisiveness in the hole made him very successful in the Bulldogs' zone running attack, running for over 1,200 yards and 11 touchdowns.
On this split-zone run against LSU, you can see the vision and lateral quickness from Robinson as he finds running room and picks up the first down against the Tigers (courtesy of ESPN).
There are a lot of other backs in the class worth mentioning, but I'll wrap up this subgroup of backs by featuring Malcolm Brown from Texas. The solidly built, 224-pound former high school track star is a no-nonsense, downhill running back with third-down value because of his abilities as a blocker and a receiver. Brown consistently did a good job at working off his blocks and finding a crease in the run game, showing the vision in traffic that can make him a good fit in a zone scheme.
Situational Running Backs
Our guest on last week's Journey To The Draft Podcast presented by AAA, Rotoworld and NBC Sports draft analyst Josh Norris, is a big proponent of finding out "where a prospect wins" to help determine his value and fit to an NFL team (that's one of the themes of this entire Eagle Eye series when you really break it down).
When looking at the running back position, some prospects present value in a zone scheme, others in a gap scheme, but sometimes there are backs who bring value in other ways, and it may not matter what kind of scheme they're in. In the past, these runners may have been referred to as "third-down," "goal-line," "change of pace" or "scat" backs. I like to refer to them as situational players because there are so many different scenarios where they can be used that those terms above may not always be the best descriptor of a player's skill set.
What exactly is a "situational running back?" What does he need to bring to the table? According to Hatman, it's their ability to have success on special teams.
"When you get the third guy at that position he has to play special teams because you only have 46 players active on gameday," Hatman said. "Look at a guy like Cedric Peerman out in Cincinnati, who is competitive in the passing game, can block and catch passes, but is a really good coverage player. Or you have Darren Sproles, who isn't necessarily a coverage player but is an excellent return man. It's a 'jack of all and master of none' situation, but primarily they need to have special teams functionality."
It makes a lot of sense, and this goes for any position, but there are going to be role players at the running back spot who may be missing a key trait or two that keep them from being a feature back. Those players still can bring value to your football team in other ways though, like Sproles does for the Eagles. The common denominator? Their ability to affect games on special teams. It should also be noted, just because you're a "situational" player doesn't mean you aren't talented. The Cincinnati Bengals were debatably at their best last year when rookie Jeremy Hill carried the load on the ground and former second-round pick Gio Bernard was a situational complementary player. Brian Westbrook early in his career was a fantastic situational player until he was given the reigns as the feature back. These players may have starting potential, but their best value may come in a complementary role.
So who can theoretically fit this type of role in this draft class? Well, for starters, depending on how you feel about Abdullah and his size limitations, you may see him in that light. But how about a guy like Duke Johnson from Miami? Johnson, like Abdullah, is on the smaller side at 5-9, but brings a ton of third-down value as a blocker and pass catcher (he runs routes as well as some receivers in this draft class). Here's a shot of just that against Pittsburgh (courtesy ACC Digital Network).
Still, some are worried about Johnson's propensity to leave plays on the field as a runner because of a perceived lack of vision. He may never be a feature back, but Duke Johnson could be a very effective player in the right role.
The same can be said about Northern Iowa's David Johnson. At 6-0, 224 pounds, the former high school track star is a big kid with really good athleticism, and that is really apparent in the passing game, where he consistently beat teams on wheel routes and vertical routes down the middle of the field (check out his game against Iowa if you ever get the chance). Johnson showed at the Senior Bowl that he can hold his own as a ball carrier as well, but if he doesn't lock down a role as a No. 1 running back, his abilities as a receiver and as a blocker can be a good fit for a team looking for a player to fill an Anthony Dixon-type role.
A lot of people have jumped on the Jeremy Langford bandwagon after the Combine, after the former Michigan State Spartan ran the fastest 40-yard dash of any running back in Indianapolis. Langford has good size, catches the ball well out of the backfield and shows plenty of competitiveness as a blocker when he was kept in to pass protect. Langford also has experience playing on defense and on special teams, something that will be a valuable asset to have in his toolbox as he attempts to make an NFL team on special teams this fall.
There are a lot of other backs who can be situational players in this draft. If you're looking for the "movable chess piece"-type who can catch the ball out of the backfield and offer value as a returner on the back end of a roster, there are players like Kansas' Tony Pierson, TCU's B.J. Catalon and Missouri's Marcus Murphy. Conversely, if you're looking for a bigger back who can take some touches in short-yardage situations and offer abilities as a coverage guy, LSU's tandem of Terrence Magee and Kenny Hilliard, Colorado State's Dee Hart and North Dakota State's Johnathon Crockett all may fit the bill.
Hopefully after reading this, you have a little bit more of an understanding of the types of running backs that teams are looking at, know that not all ball carriers are fits for every team and can dissect more of the issues that these runners will face as they look to transition to the National Football League.
Fran Duffy is the producer of "Eagles Game Plan" which can be seen on Saturdays during the season. Be sure to also check out the "Eagle Eye In The Sky" podcast on the Philadelphia Eagles podcast channel on iTunes. Prior to joining the Eagles in 2011, Duffy was the head video coordinator for the Temple University Football team under former head coach Al Golden. In that role, he spent thousands of hours shooting, logging and assisting with the breakdown of the All-22 film from the team's games, practices and opponents.