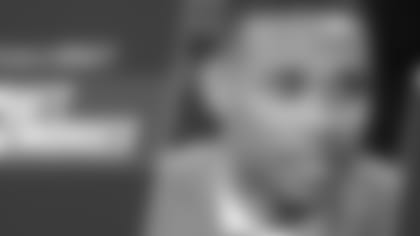 Set to enter his third NFL season this coming fall, wide receiver Ronald Darby is poised for a breakout campaign with the Eagles. The 23-year-old is coming off a sophomore year in which he set career highs across the board and led Philadelphia in receptions (85), yards (997) and touchdowns (8). And down the stretch of the season, he played perhaps the best football of his career.
But two years ago, Matthews was at a much different stage in his football life. He'd just graduated from Vanderbilt after a standout senior season with the Commodores and was preparing for the NFL Draft, in particular the series of workouts, physicals and interviews leading up to the big weekend. We recently asked Matthews to reflect upon his pre-draft experience as well as his rookie season and the strides he's made since as part of a series that will explore the NFL Draft through the lens of players currently on the Eagles.
On Preparing For Pre-Draft Workouts
"People expected me to run a 4.8 40-yard dash. I don't know why they thought I was so slow. So I knew I was going to surprise a lot of people with my 40 time. I figured I'd work on my 40 a little bit, but mostly I'd make sure I was ready for football and keep those skills up. There were even times when my trainer had to come out to the field while I was doing drills and tell me to stop running routes so I could save my legs for the Combine. I knew I wasn't a guy who was going who come in there, run a 4.2 (in the 40) and then just let that pave the way for me. I was only going to make it if I showed that I could play. I was focused on football skills more than Combine skills."
On The Night Of The Draft
"I was in New York, first of all, so that was already pretty nerve-wracking. It was a pretty cool experience. Just being there, I knew I was going to end up going pretty early, so I was really thankful. I knew if it wasn't the first round, it was going to be the second round or something like that. The whole time I was just thinking about who was going to draft me and where was I going to go. I knew the two teams that were really high on me were the Eagles and the Panthers, so during that time I just figured it'd be one or the other.
"It was funny. I think before the Eagles traded down, they had the 22nd pick. So we all got put in the order in which we needed to stand on stage for our pre-draft photo, and when I looked at my number it was 22. I didn't know if it was a sign or what, and even though they didn't take me at No. 22, it was still a sign I guess."
On His Immediate Thoughts After Being Drafted
"It was kind of weird because I really wanted to go in the first round, so I was upset when the first round ended and I hadn't been selected. But then I was like, 'You know what, I'm really blessed. Not a lot of guys get this opportunity.' So I just had the thought that whoever picked me was going to get one of the hungriest guys in the draft. Once I got picked by the Eagles, I was so ready to get here. I knew about the offense, I knew about Nick Foles, and he'd just been to the Pro Bowl, I knew Jeremy Maclin was coming back from injury and Riley Cooper was coming off a great season, so I thought it was the perfect place to go to get acclimated to the league and succeed."
On His Early Impressions Of His Teammates
"Even though it ended up being the opposite, I was definitely expecting the veterans on the team to be really mean to me, telling me to carry their pads and mostly ignoring me because I was a rookie. But I came in and tried to be seen more than heard, and over time the guys really opened up to me, and I started getting close to a lot of them.
"There were three teammates I really looked up to. Jeremy Maclin was one of them, Jason Peters was another and then Chris Maragos. Jeremy more for the example he set, showing me what I needed to do to become a great wide receiver. So I'd watch him a lot, ask him some questions here and there, but try not to bug him too much. Jason Peters was a guy I watched in the locker room, in the weight room, in the training room, just seeing how a perennial Pro Bowler goes about his day and carries himself. You know, 'What's his attitude like, what's his demeanor?' And then Chris Maragos was kind of my confidante. He'd been through so much just to make it to the NFL, so I respected him in that sense.
"Being a second-round wide receiver, I knew that no matter how good or bad I did I would have a lot of chances to get it right. Chris only was given maybe half a chance. He had to get it right quickly, or he'd be out of the league. We'd sit down for hours, and he'd talk to me about his experience in the league and how he's survived. I learned a lot from him."
On The Habits He's Taken With Him From College
"The JUGS machine is my homie. It keeps me accountable, and I wanted to set a standard for myself early on. If you don't do that, it's too easy to slip into bad habits. I figured as soon as I got to Philly I was going to keep doing the things that got me here, getting up early, showing up before practice and training before and after on the JUGS machine. But once you set that standard, you've got to live up to it every single day, or people will start to get on you. I like that. I want people to tell me, 'Hey man, you're slippin',' if they see me not doing those things."
On What Motivates Him Now As A Veteran
"I don't set any kind of statistical goals for myself. Those are all based on context, so I don't pay as much attention to those. I get my motivation from just knowing I'm giving all I've got to this team. I have a lot of friends on other teams, and from what they tell me it's just not the same as playing in Philly. And I didn't get it at first, how much the Philadelphia Eagles mean to this city, seeing the way the fans come out and support the team, how they travel so well. And it was only the middle of my second year that it all clicked. My rookie year, I was so overwhelmed by all the changes, and it hardly even hit me that I was playing NFL games. It was last year where I really felt comfortable and started making more of an effort to shake hands, take pictures, connect with the fans, because without them none of us are able to make this a career. It's a two-way street. I appreciate them just as much as they appreciate me.
"It makes me want to not just be the best Jordan Matthews I can be but also be that player, that guy who years down the road Eagles fans remember as a guy who epitomized playing in Philadelphia, playing like an Eagle, working like an Eagle, fighting like an Eagle. Brent Celek is one of those guys now, and Brian Dawkins is maybe the guy fans think of first when they think of the team. I want to be one of those guys. People say this is a hard place to play, but it's not. It's as easy as you make it, but you've got to make plays and set a standard of greatness for yourself and for the city."