On Friday, we provided the latest buzz on draft prospects on the offensive side of the football. What about the defense? We once again consulted our panel of NFL Draft insiders to get the latest on some of the most intriguing players in April's draft on the defensive side of the football ...
Defensive End: BYU's Ezekiel Ansah
The Eagles reportedly hosted a slew of big-name prospects at the NovaCare Complex this week, including former BYU defensive end Ezekiel Ansah. One of the most polarizing figures in this year's draft class, Ansah was introduced to football a mere three years ago, and now finds himself as one of the top players at his position heading into this month's draft. Is Ansah a viable option for the team with the fourth overall pick? We asked our NFL Draft insider Tony Pauline from USA Today ...
"If there's one player who caught NFL scouts by surprise this year it's Ezekiel Ansah of BYU. The native of Ghana came to BYU as a track and field athlete before turning his attention to football in 2010. Ansah's play was so nondescript those first two seasons that scouts did not even deem him worthy of free agent status. That all changed seven months ago. Ansah displayed weekly progress in his game and went from a prospect to watch in September to potential first-round pick by October and now rates as a likely Top 10 selection.
"Ansah has successfully transferred his awesome athletic skills onto the football field. He's fast, fluid and loose with the ability to rush the passer or chase ball carriers in pursuit. What's most surprising is the way Ansah plays with consistent fundamentals despite being such a novice to football. He can change direction on a dime, ward off blockers with a violent hand punch and close to the play with lightning speed. He comes with incredible upside, but would Ansah be a good fit in either a 4-3 or a 3-4 defensive scheme? In my opinion the answer is no. He displays great skill making plays up the field, but is a totally different defender moving in reverse or playing in coverage. That should not diminish the fact he's a terrific prospect with the ability to grow into a special player on the NFL level, but his best chance for success is in a 4-3 scheme."
Defensive Tackle: Florida's Sharrif Floyd
One possible option for the Eagles with the fourth-overall pick who has picked up steam in recent months is Florida's Sharrif Floyd. A Philadelphia native, Floyd has been a menace on the defensive line for the Gators in the past two seasons. In 2011, Floyd flourished as a defensive end before shifting inside as a junior, where he continued to wreak havoc. It was reported last week that the Eagles would be hosting Floyd for a visit, but would he be the right pick at No. 4? Is he a fit in Billy Davis' defensive scheme? For that, we asked to FootballGuys.com's Sigmund Bloom ...
"With his Philadelphia connections and stirring underdog beating-the-odds story, Sharrif Floyd would appear to be an outstanding match for the Eagles if he is there at the fourth pick of the draft. The fit might not extend to the field if the Eagles ask him to be a two-gap defensive end in the 3-4 who is more responsible for holding up at the point of attack than penetrating.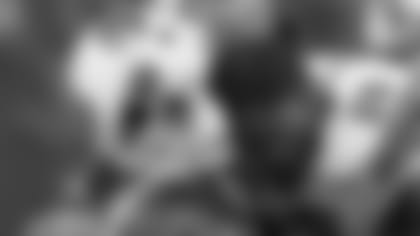 "Floyd is at his best beating his man off of the snap with quickness and power, so he will do the most damage as an attacking three-technique defensive tackle, not five-technique defensive end. Utah defensive tackle Star Lotulelei has been given a clean bill of health after a heart condition was detected at the Scouting Combine. He has the bulk and strength to play both nose tackle and defensive end in a 3-4 and the versatility to play defensive tackle in a 4-3. Lotulelei could be a much better fit for Philadelphia's defensive scheme."
Linebacker: Oregon's Kiko Alonso
In a linebacker class loaded with versatility, there are a number of intriguing options for a team like the Eagles in the middle rounds to come in and challenge for a starting job and at the very least provide excellent depth and special teams value. One of those players is former Oregon linebacker Kiko Alonso, who obviously has a history with Chip Kelly and members of the defensive staff here in Philadelphia. How would he fit in Billy Davis' defense? Where will he be selected in the NFL Draft? For the answers to those questions we sought insight from Philadelphia native Ryan Lownes of Draft Breakdown ...
"One option for Philadelphia, whether they are looking for an inside or outside linebacker, could be Alonso. A familiar face for Chip Kelly, the 6-3, 238-pound Alonso is big and athletic defender who recklessly flies around the field making plays. While he could stand to play with a little more discipline at times, his instincts and timing seem to be strong attributes. Additionally, he provides value as a complete player who can run, cover, tackle, and rush the passer. If teams feel they can trust Alonso, it is possible he could come off the board as early as the second Round."
Cornerback: North Carolina State's David Amerson
One of the more highly criticized prospects in this year's NFL Draft, North Carolina State's David Amerson personifies as a "boom-or-bust" prospect. Amerson's mercurial play saw him go from a likely Top 20 selection a year ago to what will likely be the middle rounds this April. What are Amerson's prospects at the next level? Where will he best fit in an NFL secondary? We asked Draft Breakdown's Aaron Aloysius ...
"After a remarkable sophomore campaign in which he hauled in 13 interceptions, Amerson appeared to be on the road to elite draft status. Unfortunately, he took a step back in 2012, leading some to believe he should move to the back end of the secondary. However, a move to safety won't eliminate the issues in Amerson's game. More than a position switch, the N.C. State cornerback's technique needs polish. Amerson's tremendous ball skills have enabled him to make bird-dogging quarterbacks pay, but his gambling ways also have set him up for pump-fakes and double moves. Whether at corner or safety, he'll need to play with more discipline to avoid getting duped just as frequently at the next level. And if he does move to safety, Amerson's inconsistent tackling could make him a shaky part of the last line of defense.
"Fittingly for a player whose game offers so many highs and lows, opinions are all over the map on Amerson. But while his 2012 tape does raise cause for concern, the N.C. State product's acrobatic interceptions and impressive Combine numbers (including a 4.44 time in the 40-yard dash) show the upside that will get him selected on the draft's second day."
Safety: Florida's Matt Elam
In such a deep safety class, there has been a lot of chatter regarding the Eagles taking at least one to add to their new-look secondary on draft weekend. One of the names that has turned out to be quite popular among the fan base is Florida's Matt Elam, and rightfully so. Elam is incredibly physical with the ability to stop ball carriers in their tracks upon contact, and has the pedigree of an NFL starter. Is he a viable option with the Eagles' second-round selection? Will he even be available? To answer that, we talked to Draft Countdown's Shane Hallam ...
"Elam is an intriguing Top 50 option at the safety position and absolutely someone to consider for the Eagles at the 35th overall pick. Elam fits in the NFL as a strong safety prospect who runs and tackles like a bullet train. He has shown the athleticism to possibly cover tight ends or slot receivers, but rarely has been placed in that position.
"Therefore, he doesn't have the upside of players like Kenny Vaccaro or Eric Reid, but should compete with Florida International's Johnathan Cyprien in that early second round mix. Elam can be an effective NFL player and starter with the right development, scheme and talent around him."