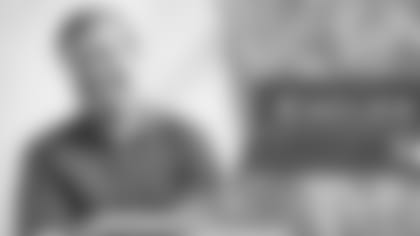 In the past week, you have no doubt heard the name Davey O'Brien. A lot. As in, "Carson Wentz is the first rookie quarterback to start a regular season opener for the Eagles since Davey O'Brien in 1939."
Every time Wentz's name was mentioned - which was a lot - it was linked with Davey O'Brien.
So you probably wondered who is Davey O'Brien?
Well, he arrived in Philadelphia with much the same fanfare as Carson Wentz. He, too, was the Eagles' first-round draft pick. He won the Heisman Trophy as a senior at TCU and he was arguably the biggest name in football given the fact that the college game was more popular than the NFL in those days.
The Eagles had been around since 1933 and never had a winning season. Bert Bell, the owner who doubled as head coach, needed something to excite the fans. They were lucky to draw 12,000 people to the home games at Municipal Stadium, the massive 100,000-seat facility best known for hosting the Army-Navy game. The place was almost empty for Eagles games and Bell was losing money every week.
In O'Brien, he saw a drawing card as well as a quarterback. Bell signed him to a $12,000 contract which made him the highest-paid player in the league. Bell also took out an insurance policy on O'Brien with Lloyd's of London calling for the Eagles to collect $1,500 for each game O'Brien missed with an injury. Bell knew if O'Brien didn't play, no one would show up so he had to make up that lost revenue somehow.
Considering O'Brien's slight frame - he was 5-7 and 150 pounds - it seemed like a wise investment. As it turned out, O'Brien never missed a game so Lloyd's of London never had to pay the Eagles a cent.
But whenever Bell spoke to the press about O'Brien, he insisted his decision to sign him was all about winning football games and not selling tickets.
"When I drafted Davey, I wasn't thinking about buying a name," Bell said. "I'm interested in building the Eagles into a championship team. I think he's the quarterback who can spark us ahead. Otherwise, I wouldn't be interested, no matter what his college reputation might be."
O'Brien was a smash at the box office. There were 33,258 fans in the stands for his pro debut on September 17, 1939. It was by far the largest crowd ever to attend an Eagles home game to that point.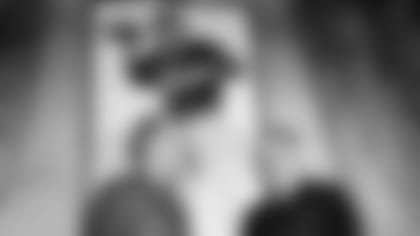 Davey O'Brien (left) was awarded the Maxwell Trophy as the nation's top college player by Eagles owner Bert Bell. The Eagles later made O'Brien a first-round pick.
O'Brien did not fare nearly as well as Wentz in his debut. He lost 7-0 to Washington - the opposing quarterback was future Hall of Famer Sammy Baugh - and things didn't get a whole lot better after that. He did not get the Eagles into the end zone until the fourth week and even then they lost to the New York Giants, 27-10. Still, O'Brien's name was a draw. On October 22, the Eagles played in the first televised game in NFL history. They lost that game, too (23-14 to the Brooklyn Dodgers at Ebbets Field).
The Eagles finished the season with a 1-9-1 record. Their only win came on Thanksgiving when they defeated Pittsburgh, 17-14. But O'Brien set an NFL record by passing for 1,324 yards. He outgained even the great Baugh who threw for 1,094 yards for the Redskins. Still, the record was a disappointment and Bell felt the need to defend O'Brien as the season wound down.
"The trouble is that O'Brien was so built up by his play at TCU, the public expected a magician who would complete 99 of 100 passes," Bell said. "No rookie can come out of college and burn this league up. O'Brien is playing as well as any first-year man could possibly be expected."
Of course, Bell was largely responsible for building up the public's expectations, but salesmanship was part of the owner's job description. As a football man, Bell knew he had to surround O'Brien with better talent so in 1940 he signed O'Brien's college teammate, split end Don Looney. He figured they could recreate the pitch-and-catch magic that won so many games at TCU.
O'Brien and Looney did their part. O'Brien led the league in passing and Looney topped in receptions with 58 for 707 yards. On December 1, O'Brien set an NFL record by throwing 60 passes and completing 33 in a game against the Redskins. Looney caught 14 of those passes to set an Eagles team record that stood until 2014 when Zach Ertz had 15 receptions in one game, also against the Redskins. However, the Eagles lost the game, 13-6, to complete a 1-10 season.
That game marked the end of O'Brien's football career. He retired from the game to pursue a career with the Federal Bureau of Investigation. It was a huge story: one of football's biggest names quitting after just two seasons to become a G-man. O'Brien said his decision had nothing to do with the Eagles' pitiful record. He said he would have done the same thing if he were playing for a first-place team. Government service was something he wanted all along.
"Football has always been my first love and it has been mighty nice to me," O'Brien said. "But for the sake of the future, it's time to quit. I'm fortunate to get this (FBI) job and unless a man expects to stay in football, the longer he plays it, the longer he delays starting whatever work he's going to do afterwards."
Bell presented O'Brien with a silver plaque with an inscription which read: "Davey O'Brien, the greatest player of all time, retiring from pro football to serve his country. Small in stature but with the heart of a lion. A living inspiration to the youth of America."
O'Brien spent 10 years with the FBI as a field agent. When he left the bureau, he went into private industry in his native Texas. He and Looney formed a business partnership that proved very successful and he died a wealthy man in November 1977. Today, the award given annually to the most outstanding college football quarterback bears his name.
An award-winning writer and producer, Ray Didinger was inducted into the Pro Football Hall of Fame in 1995. He has also won six Emmy Awards for his work as a writer and producer at NFL Films. The five-time Pennsylvania Sportswriter of the Year is a writer and analyst for Comcast SportsNet. Didinger will provide Eagles fans a unique historical perspective on the team throughout the year for PhiladelphiaEagles.com. You can read all of his Eagles History columns here. He is also the author of The New Eagles Encyclopedia.